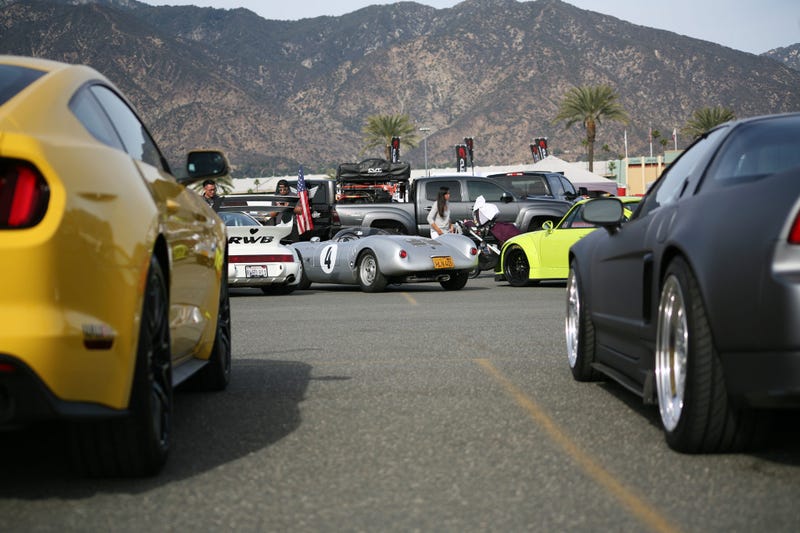 Every year, the Purist group hosts a toy drive for underprivileged children to collect gifts and such. It's a huge event with collaboration from several corporate groups and Reach Out World Wide. This December was the first time I was actually able to attend, so here are some pictures!
Before the event, I dropped by my friend Anthony's shop to clean my Z. He came prepared, as you can see.
Another one of his Skyline owner friends dropped by and then it was off to the event!
You can see the "Purist" sticker here on my Z
This was a fairly good site to wake me up.
The most striking display at the event was dead center.
It was a rather cool trailer with Ben Chen's CLK GTR inside.
Look at the little kid staring at it!
Another interesting touch is the gear knob for the sequential transmission.
It was great to see the Manji Garage novelty plate on Mr. B. Gold's R34 GTR
His car is in absolutely amazing shape. The Z Tune hood is beautiful too.
A couple cars down was this beautiful Weissach 918.
As you can tell, the Purists take their stickers seriously!
The group out in perhaps the biggest numbers was the RWB owners.
A faux Porsche 550 Spider joined their ranks too.
This replica was pretty amazing, but there was one big give away....
The parking brake placement.
This is a very nice RWB build. The wheels are just so perfect. The owner put a duck tail on it now if I remember right.
This is hands down my favorite RWB build. Yellow plaid interior, duck tail, R-style tail lights. It's just great.
You can see the yellow plaid interior in this picture.
Those hips....they're so wide.
This one belongs to the owner of 1/15 Motorex R34 GTRs.
The wing is absolutely massive
There were also some cool non-RWB Porsches. The RUF wheels and unusual color on this 996 were just awesome.
This earlier 911 had just some fantastic patina on it. You could tell it was driven frequently, driven fast, and driven hard.
In my opinion, the best 911 color is a non-metallic grey.
Magnus Walker brought out his "277" car.
A couple cars down was this extraordinary looking 964 (?).
Fifteen52 makes a truly fabulous modernization of the classic Fuchs wheels.
Odd striping, but a very very nice example of a 964.
This 964 was extraordinarily clean. It's unusual to see one in green, but it suits the car quite well.
Sam Spirer from Wicked Auto Detailing had this 997 GT3 as a "booth car" to show off his work.
What an unusual color on this 991 GT3. Pistachioish?
Taxi GT4! I'd love a ride in that.
Now to get beyond the Porsches, this Pagani Huayra arrived and totally stole the show. It could have something to do with it being totally carbon fiber....
A Boden Autohaus-built Gallardo was also a big hit. The fitment was glorious.
A couple Skyline Syndicate members brought out their gorgeous cars.
This gunmetal grey example was built very well with tons of rare ARC parts.
Out in the spectator lot, hilariously, was a CA-plated BAC Mono.
The side aero was absolutely filled with gravel, showing that it must be well used.
Look at that rear suspension setup!
The interior was spartan, to say the least.
An International Vehicle Importers employee brought out his personal Hakosuka.
One more shot of it from later on in the night.
A widebody, LS1-powered S2000 (S5700?) was one of the more interesting roadsters out there.
This 16V 190E was in basically perfect shape.
Also a great roadster out there: Bulletproof Engineering's totally custom Z4.
I was pleasantly surprised by the just incredible build quality.
Another Bulletproof Engineering car.
Just perfect. The Euro spec hood is a rather rare part to see in the US.
This wagon....damn.
Also passing through was a Nardo Grey R8 V10.
RDBLA left fairly early. I know taste is very subjective, but I think most of their cars look just terrible.
It's so....blobbey.
Poor poor SLS.
This is more my taste, but I'd change the wheels.
The Batventador was also out. She recently got rid of it for an SV.
Given my affinity for non-metallic greys, this Aventador was just the greatest.
There were also a few rather amazing NSXs at the event.
This white Rocket Bunny NSX used to be wrapped in blue chrome. Personally, I like the white much better.
Supercharger!
NSX-Rish?
I'm a big fan of Liberty Walk cars, and the livery on this one was very cool.
Parked near by was a Rocket Bunny RCF. It actually looks better than the stock car in my opinion.
More Liberty Walk!
These appear to be want to be Watanabes.
The owner has put an absolutely amazing amount of work into this car. There are so many subtle mods that most people would never notice at a first glance.
The creator of the Purist group, Sean Lee, brought out his full carbon exterior Smart car. Paging Mrs. Mercedes....
Also present there was the built widebody NA Supra featured in my last event post.
This absolutely amazing looking R32 GTR was so different from the standard type of build I'm used to seeing.
This not quite millenium jade, not quite silver color fit the car well. Also note the lack of a wing.
Though it's not a Motorex car, it had Motorex sidemarkers.
Our merry group of Nissans was all happily parked up.
My friend Michael brought out his SR20 powered Datsun Roadster.
This was the meanest looking Evo I've ever seen.
Spectacular representation of a VIP car in the US.
Speaking of VIP, wow. Just wow.
Alex Roy, country trip record holder, came out in his Citroen SM.
He parked next to a Catfish'd Miata
The Super Street Rocket Bunny FRS had a shocking amount of rock chips and damage on the front bumper. At least it means it's well used.
Axis Wheels and ASAP Tire owner James Chen brought out his Countach, in classic Cocaine over Cocaine color combination.
Another Rocket Bunny BRZ.
Um......yes.
There's something special about this M6 GC, and it's not just the wrap...it's a manual!
V8 swapped E36 M3 track build.
Another rather interesting build.
A 330Ci with an M3 S54 and velocity stacks!
This SV is spectacularly rare because it has a real, gated 6 speed!
A perfect mix of JDM and UKDM.
At this point, most people started heading out.
A couple of the Skyline guys hung around for a while after.
The 918, 458 Speciale and R34 GTR left.
The only other 300ZX there departed.
Some others stuck around to help clean up, like the owner of this 997.
The owner of this Mini was there until the bitter end
The NSX stayed too.
See you all next year!