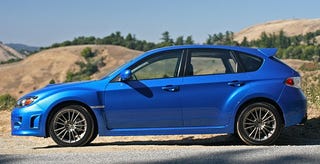 How comfortable is it over crappy roads, pot holes, ruts, etc?
I am looking for a daily beater here. I drive into the city of Atlanta down Dekalb Ave every day at 40mph for work and the terrible road quality is slowly destroying my soul (and Miata). The Miata, especially in its current state, is just too rough over these roads. Plus, I feel like I get a new squeak or loose part once a month.
The 2011+ WRX appears to be a good combination of fun and (possibly) comfort because of the rally heritage. I could be totally wrong, however. I am only looking at hatch/wagons because I have an injury-prone greyhound that sometimes needs emergency transport when my fiance's wagon is nowhere to be found.
Any other suggestions are also appreciated. I may just buy a 99 4runner for $5k and be done with it.