Autumn is approaching! The leaves will soon be changing (if they are not already) and the younger part of society is firmly entrenched in school. It's a great time of year to consider a weekend vacation, right?
My weekends are usually Sunday and Monday, rather than the typical Saturday and Sunday enjoyed by most folks in the U.S. As such, I have a day free where most adults are [miserably] going back to work. This allows me to do errands without traffic or crowds, and I don't feel rushed or stressed. That said, it is only two days, and there are the responsibilities of being an adult to consider, so I don't get to, say, go on a drive across a few states just for fun, because I need that gas to get to work, and I don't want to put undue wear, tear, and potential damage on my primary mode of transport. But I'd like to.
So, if you were gifted $500,000 into your autumnal fun fund, what would you do this time of year for a weekend automotive-themed vacation (or even "staycation", for the DIYers)? Has to fit within two days a week, over the entire season.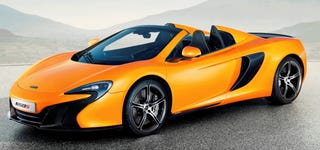 As for myself, I'd buy a McLaren 650S Spider (because the 675LT is coupe-only) and travel with my wife, driving to various racetracks, and staying in luxury hotels. Once we'd explored the nearby tracks, we'd fly further afield and rent/borrow one or the nearest equivalent, and do the same. We'd probably change it up a bit and rent/borrow an Aston Martin Volante or F-Type once in a while, or sign up for one of those car-sharing clubs that have everything from pre-war roadsters to factory-fresh exotics, and indulge in a Shelby Cobra and 1967 GT500 (good luck to them getting that back from my wife), and of course whatever was available of mutual interest, like a Ford GT, Saleen S7, etc.
How about you, weekend warriors? Half a million's burning a hole in your pocket and you have until winter to spend it for fun (so not a dream garage, that's another question). What do you do?