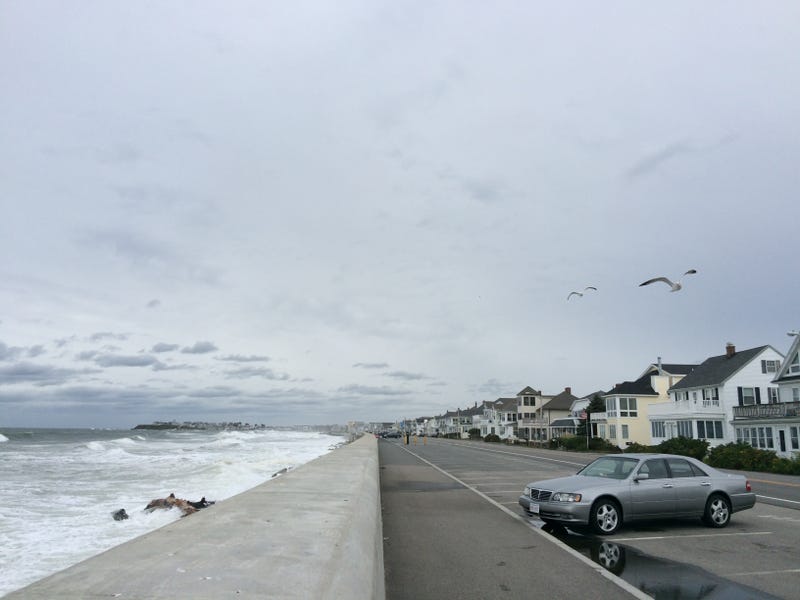 I was itching to get out of the house yesterday, so I decided to visit Portsmouth, NH for the first time. Upon checking the weather, I discovered that there was a weather advisory for "splashover." New England's sea walls are a joke, so a light breeze can stir up the normally-calm seas enough to splash water over the barriers and onto the highway. Whoops!
Driving conditions were interesting, that's for sure. Unsurprisingly, the locals were unfazed. They were out jogging, walking dogs, and photographing the ocean. I even saw some poor woman (and her dog) get SOAKED by a rogue wave. Schadenfreude is oh so sweet. I expected to meet the same fate while I was admiring the ocean, but my ipotato and I escaped, unscathed! This post should really be titled "The last time I forget my DSLR."
I stopped a few times along the way. Can anyone tell me more about this little medallion? They seem to mark geographical features in the US. I've seen these many times before. I assume they were part of some old coastal/national park survey?
This is the view from the point marked by the medallion. The steel grey skies, the strong breeze, and crashing waves made this trip feel epic. Driving through seaside ghost towns in the off season is pretty eerie. The seaside arcades, circus rides, massive parking lots, and picturesque piers, which are normally so full of life, look dead. Lone, grim-looking year-rounders patrol the streets. The wind howls and whips around the buildings while the seagulls cackle.
There were a few great automotive photo opportunities too. The coastal flood plains make for a nice backdrop. I need to duplicate this shot with a DSLR at some point:
Cars look pretty good parked in the middle of coastal turnarounds. If you live near a large body of water, check out the roads that run along it the next time you feel the urge to photograph your ride:
Portland was FULL of interesting automobiles, which was a pleasant surprise. I parked next to an Evoque:
Found a kitted-out FJ parked in a nice brick driveway:
Caught a street parked S8:
And SNIPED this photo of a DBS as it made a turn. What an amazing exhaust note:
Portland is very pretty. It's the go-to New England seaside town for most people in the area, so it's somewhat "touristy." Which means that sidewalks and back alleys are well-manicured, and the streets are lined with galleries, boutique shopping, and small cafes. And there's nothing wrong with that! If you want authenticity, you drive to Gloucester. This was my favorite over-landscaped walkway:
Jalop worthy metal was everywhere. Have an E63 Wagon! Mmmmm yes please.
I found an old Merc too. An early fintail S class. Who knows the chassis code?
American architecture is very hit-or miss. The school building this old gal is parked behind is an ugly mess. This house though... that facade! Grand old homes make me wonder: Who built that? And when? With money from what?
I found this thing too. Some kind of WWI/WWII artillery piece? Whatever it is, the sight and the exposed gears were fun to examine. It was drizzling at this point, so I didn't spent very much time looking; my outrageously expensive parking meter needed to be fed. I didn't spend very long in the city due to my disdain for doing laps around a meter. It's impossible to wander and take in the sights that way. I'm sure I'll be back again sometime soon though! I'd call this little trip a success. It wasn't mind-blowing, but it was still a fun adventure.