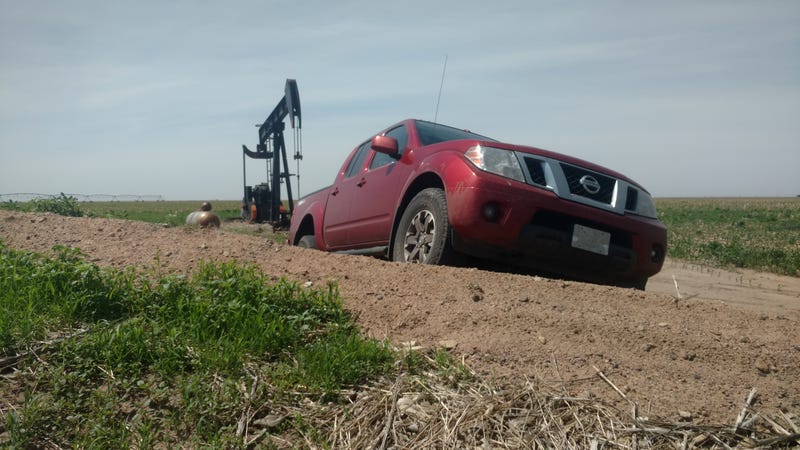 This weekend I spent 10 hours driving to the far southwest corner of Kansas, using a drone to get some footage of some oil wells, and then driving back. It was 103 degrees and windy. In lieu of the work truck which is a '97 F-150 with no A/C, my boss let me take his personal truck. Here are my impressions after a day on the highway with some mild offroad/mud stuff.
Interior
The very first thing I noticed when getting in a Frontier: the steering wheel is tiny. After climbing out of a 90s F150 I was not prepared for a chunky little nicely weighted steering wheel smaller than the one in my Miata. Very strange. The interior is overall competent, though the seats felt like they were made for much larger people than myself. The bolsters were two inches to either side of me leaving me sitting on the park-bench-like flat middle section which wreaked havoc on my back after 7 or so hours and resulted in the last leg of my trip being spent constantly shifting position. Not wonderful.
Switchgear all exists and seems to work. The volume control is on the left side of the steering wheel and the cruise control is on the right, which is the reverse of pretty much every car ever (as far as I can remember) and led to me constantly speeding up the cruise control when I wanted to jam out.
The A/C was fantastic. I was getting a little bit chilly so I bumped up the automatic temperature to 73 or so and looked up and saw an exterior temp in the 100s. Not bad. No comment on the heated seats.
The Rockford Fosgate sound system was surprisingly good. Aux, bluetooth, USB, SD card support, XM, digital FM. It's all there. Also has nav, but I used my phone so no comment on that. The interface was fast and fairly intuitive.
Ride/Driving Experience
The Pro4x drives like a car. Much like the Colorado the Nissan rides smooth and turns easily. It's not a corner carver but it doesn't feel "truck like" to drive. The suspension is definitely on the stiff side as you'll discover when you get to a dirty road; it does NOT soak up bumps.
Powertrain
The VQ40DE is adequate. Got 16mpg, didn't feel lacking other than passing power. The automatic transmission did exactly what it was supposed to and never felt confused or lethargic, it just blended into the background and was entirely unobtrusive.
Off-road
So here's the thing about the Frontier: Nobody gives a damn about it. But they should. This truck is 90% of a Tacoma TRD Pro for a fraction of the price. Want a wrangler? This will do Wrangler things but not suck to use as an actual car. 8.9 inches front and 10 inches rear ground clearance, skid plates, rear e-locker, Bilstein shocks all put it within shouting distance of the Tacoma (though the Colorado ZR2 does include a front locker as well as a rear). For comparison:
Tacoma TRD Pro: $41,520 starting MSRP
Chevy Colorado ZR2: $40,400 starting MSRP
Frontier Pro-4X: $32,740 starting MSRP
Of course, a large amount of that cheaper price is due to the fact the Frontier is essentially the same truck it was back in 2004 but... it really didn't feel super out of date. It lacked the latest super aggro-styling plastered all over it but it felt honest.
Truck
does truck things
wheeeeee