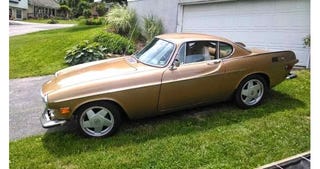 The Volvo 1800 is a regular on Daily Turismo, but it won't be forever because the market seems to be driving prices higher. Luckily for low budget buyers, you can still find a deal, typically from a seller who has had the car for a few decades and isn't aware of the recent market updates.
This kind of seller is just looking to get what he paid for the car a few years ago and isn't looking to fund his kid's ivy league college degree. It works for the seller and is a great opportunity for a buyer. Find this 1972 Volvo 1800E offered for $5,000 in York, PA via craigslist. Tip from Aaron K.
For a quick market reference, lets take a look at the Daily Turismo exclusive 1967 1800 that was offered for $3900 and had many callers and sold within 3 hours of posting. I've personally driven the DT 1800 and can say that mechanically it was very nice, but this car offers a much more usable exterior and if the seller is honest with his description of zero-rust and good mechanical condition — it would be very well purchased at $5k.

A set of modern Volvo wheels dress up the exterior a bit, but otherwise in the few pictures provided, this one looks good for a 4-speed (with OD) 1800E. See a better deal on an 1800? tips@dailyturismo.com
Originally published as 5k: This Won't Last: 1972 Volvo 1800E on Daily Turismo.