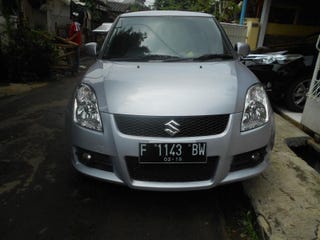 Say hello to my little brother's new Hot Hatchback!
Yeah, that's a hot hatchback. You might think "Really? Suzuki made a Hot Hatchback?"
The swift GT2 was actually an Indonesian-made Suzuki Swift with stiffer suspension, more spartan interior, some bodykits, and a huge exhaust. Seriously, you need a huge exhaust in a hot hatchback. So, how hot was it?
Simple. Suzuki stiffen the whole suspension and chassis on this thing, so it's really agile. Plus it's only weigh about 2200 lbs, so it's really light for it's size, thanks to no airbag, no ABS, thinner plastic interior and thinner body panel. You know, add lightness and stuff.
But they forgot to tune the engine. So this car only made a pathetic 101hp out of 1.5 litre engine. The 0-60 time of 8.7 second is not helping as well. But hey, it's light right? Just like hot hatchback from the 80's!
Yes, it was. But my brother was an idiot. So instead of buying the manual one, he get the Autotragic one. Nope. I mean, what's the point of getting a underpowered hot hatchback but then equips it with a weird 4-speed Auto?
So, any upsides?
Well, the only upsides i find so far was the car is agile. Like, really agile. It's like it was designed for circuit with lots of sharp corner. Plus it loves to do some three wheel action. You know, when you turns so sharply that one of the rear wheels go airbone. And that's fun! As long as you don't get orloved, obviously. That's no fun. And oh the head unit was so 80's. It's also quite economical, averaging 44mpg on our little drive. And cheap. This one only cost 10k USD, or about 1/3 of the brand new Fiesta Ecoboost cost, and it's only done 20k miles.
But the rest of it was, well, a bit meh. It was slow, the ride was harsh, and sometimes i feel the car loves to bounce from side to side, like little bounceball. But when the road get twisty, i rather got this Swift, because it's so fun!
Plus i wish he'll learn his mistake and start saving for the brand new (stick shift) Swift Sport. I mean, look at that:
I imagine that thing will be much better than my brother's GT2.