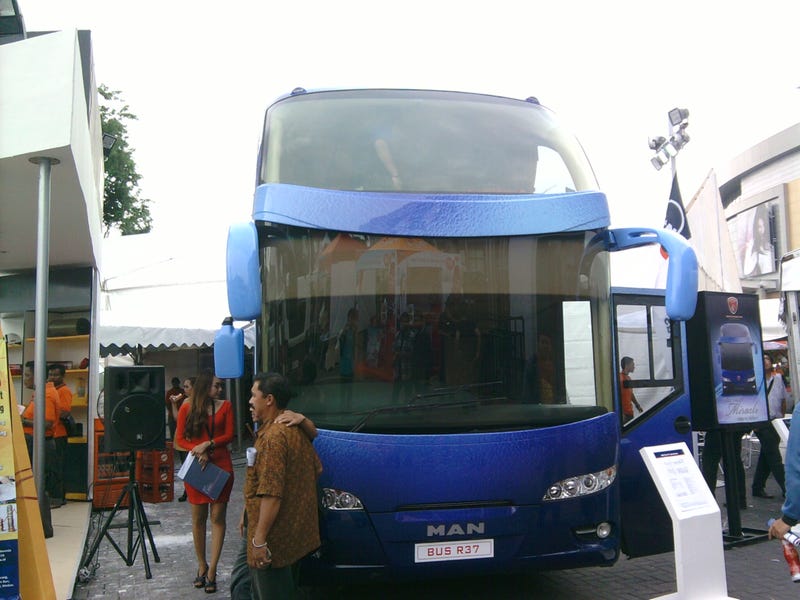 Yes, i'm just coming home from my town's mini car show. I Live in Surabaya btw, 2nd biggest city in Indonesia, and yes, they have a car show. And this is the star, the MAN R37 Bus. Look at that!

It's the most expensive bus you can buy in here at 350k dollars, but you get a space for about 26 person. But those 26 person will be enjoying one of the best coach experience in their life.
Just look at this 26 seats on the 2nd floor. All those seats is electric, and can massage you. Plus each seats have their own 7" TV. Which is very luxurious for Indonesian Standard.

On lower deck, you got this lounge, with sofa, toilet, tv, and coffee maker. Just in case you're bored at the top.

The driver got their own compartment with a sleeping room behind him. Too bad the bus was automatic tough, 12 speed triptonic gearbox made by ZF.
There's a small complaints from me tough. 1) The headroom is too low (i was 5 foot 10 inch, btw and my head constantly hit the celling while i was walking), 2) they don't let me see the engine, and 3) nobody allowed to drive it yet. But still, i love this bus.
And trust me, that's the best car featured in this show, which is sad :(