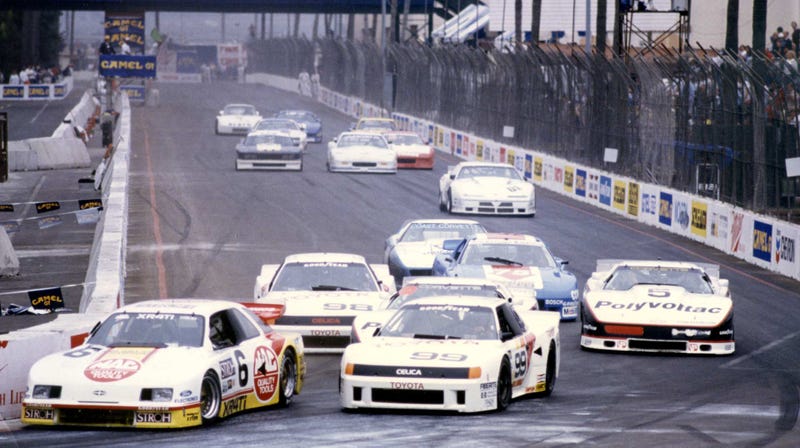 On my quest to find a new daily driver, I wonder where all the pizzazz went with marketing your bare bones Nissan Sentra as a full blooded race car. You know, throw on some decals, a bodykit, a hefty upcharge and profit!
...and nobody's the wiser because racecar. I'm not talking about the likes of a Nismo Juke or Versa Note SR.....no, I'm talking about taking those affordable cars and somehow tying it in with an actual motorsport event that its much more talented identical twin participates in.
Seems Legit.
It's a pretty ingenious technique if I say so myself, and even if I understand that it's a blatant marketing ploy, kind of like the BMW M brand, I still want it.
The Rx-7 was really good at what it did, duking it out in the uber competitive IMSA GTU/GTO series of the late 80s/ early 90s.
so what's a Mazda exec to do? The ONLY thing to do...take it and run with it.
You obviously make an IMSA GTU car for the masses to celebrate your awesomeness, I mean were you born in a barn or something?!
There's even one on craigslist right now in pretty bad shape that I've been contemplating getting. If anyone of you get it, I will destroy you. But seriously, it's in the rust belt and in all honesty, I won't get it because this car probably has the structural integrity of flan.
GM was another one that unabashedly monopolized on their IMSA GTU successes. GM did a lot of questionable things in the years leading up to this period, but this was not one of them.
Never Forget.
Chevrolet had a new econo sports car that initially sold 200,000 cars annually with a steep decline to obscurity in the mid 90s, the Beretta.
It raced in 1988-89 in the IMSA GTU series against the likes of the RX7s, Celicas and so forth. The Beretta may have paled in quality comparisons against the imports in the real world where you and me live, abiding by the rules of responsibility and wearing pants, but in make-believe land we call the racetrack, it actually did really good for itself.
Chevrolet literally added a bodykit, rims and a stiffer suspension and called it a day. Just so you get an idea of how far they ran with this marketing effort, I'll break it down for you. If 1989 Jalopnik you walked into a dealer, it'll set you back $10,135 (unadjusted for inflation).
To get the GTU model, you would need to buy the GT version first at the cost of $11,700.
The GTU package adds $2,500 to the GT price, so out the door, you're paying $14,200 for the car. Adjusted for inflation using the CPI inflation calculator, you're looking at $27,148.57.
Do it. Do it. Uh. Come on. Do it.
Now this stuff most certainly still goes on today in America, but it's usually reserved for upper echelon pricey cars and bonafide performance cars. I just miss the days where an affordable every mans car can feel appreciated. Some cars correlated to their race brethrens weren't even remotely close to performance cars on the street.
Race on Sunday, sell on Monday my friends.
Photo credits reside to their respective owners and are used for educational purposes in my editorial.