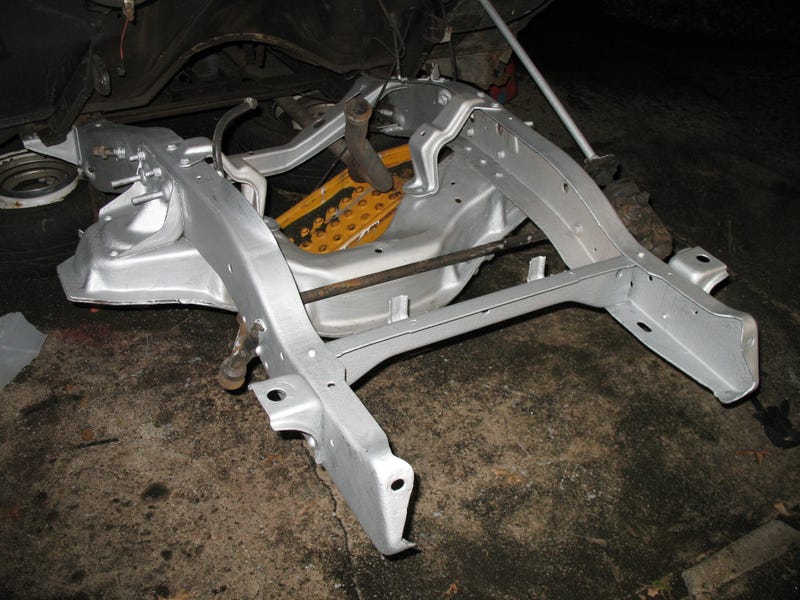 (see prior day here) Things got done! I was able to put in several hours today without interruption, and it shows. First off I got the silver Masterseries on the entire front frame. Now this all needs a coat of black and I will be able to start bolting things to it.
I didn't paint the steering box & front steering linkage as they have grease on them.
Then the repainted motor mounts & brackets went back on.
I went to rotate the engine, and the entire thermostat housing rotated. Turns out one of the bolts just wasn't there. Glad I found this now and not when the motor was full of coolant. Some gasket maker and snagging the missing bolt off the old motor fixed this.
Swapped the intake & exhaust off the old motor, with a new gasket. I needed to do this as the carb & throttle linkage from the new motor aren't compatible with the throttle linkage in the truck. The alternator also went on, but I need to buy a new belt as the old one went awol.
Fan & fan pulley went on, and new spark plugs went in. The motor is nearly done, I just have to paint & install the oil pan & side pushrod covers, then it'll be ready to come off the stand and get its flywheel & clutch installed.
I also finished painting and assembling the modified wagon.
Oil pan & covers are degreased and read to grind the rust off & paint.
Lots crossed off today & only one new thing added! I'm making progress.