I bought my WRX to replace my truck because a) I always wanted a fast car and b) I always needed the hauling capacity of a truck. Everyone says a fast wagon would give me most of the best of both worlds. This weekend, I found out the truth.
My son is in Scouts and we go camping regularly, so one of the reasons I've held onto my old truck was to use it for camping. This all changed this weekend when I started preparing for this weekend's trip. The truck has been a little balky about starting if it isn't started weekly, so I figured that it would be a good idea to make sure it was ready before I packed since it has been several weeks since I started it. It was a good thing I did - it caught fire shortly after it fired up. I managed to put the fire out and the damage seems minor, but I thought it best to go over the truck before taking it on a trip.
My only option was to take the WRX camping.
If you haven't experienced Cub Scouting, you should know that much of the camping is car camping, not backpacking. Scouting parents pack all of the amenities of home into their vehicles and use them to create a small tent city in the woods. A typical campsite includes a tent that could sleep a family of 10 (with at least one air mattress), a pop-up canopy, at least one table for food prep, a two-burner stove, chairs for sitting, and a wash station.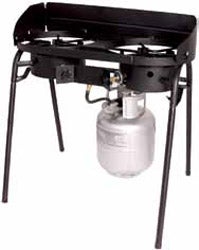 The more elaborate sites include a full kitchen with propane-powered stoves (using the same tank you use on your backyard grill), outdoor carpet under the canopy, and even a kitchen sink.
My typical loadout includes two tents (the boys in our group are old enough to set up their own site), an air mattress (for me), two sleeping bags, a backpack with my clothes and bathroom kit, my son's backpack, a couple of ground tarps, a canopy, a folding table, a small stove, and two camp chairs. Our kitchen supplies are contained in two 18-gallon totes and an ice-chest. One tote holds our hard supplies like the dutch oven, frying pan, coffee pot, plates, utensils, etc. The other contains staples (think flour, sugar, spices), paper goods, and foil, and things you might need when dealing with fires like heavy gloves, a hatchet, etc. It's a LOT of supplies, but it makes life in the woods fairly easy.
I thought you might like to see how a WRX is loaded out. The pictures that follow are from packing for the trip home. I was in a bit of a rush on the way out and didn't get pictures then. Before you ask, yes those are bathrooms in the background. Not every Bear takes a dump in the woods.
This is the WRX all opened up with the back seats laid flat and one of the ground tarps in place to protect the interior.
The next pictures shows the table with one of the totes. I found that clear totes are really handy since you can quickly assess the contents when you are looking for that essential ingredient as your dinner is burning. At this point I've also loaded the tents, canopy, one of the sleeping bags, a lantern and a bag with four propane tanks.
The final shot shows the rest of the supplies loaded. Visible are the other sleeping bag, a collapsible garbage can (invaluable when you are dealing with the trash generated by 10 Cub Scouts), the air mattress, a small tackle box, my bag (no backpack this weekend), and the cooler. The fishing poles on the ground were loaded last. What you can't see are the 5-gallon potable water tank behind the driver's seat and the extra box with Sunday-morning breakfast supplies since we were in charge of that meal this trip. It was sitting on top of the first clear tote.
I was surprised it all fit! I did have to leave the bikes at home for this trip and there wasn't much room for much else. But I'm looking into solution for mounting stuff on the outside of the car. More to come....