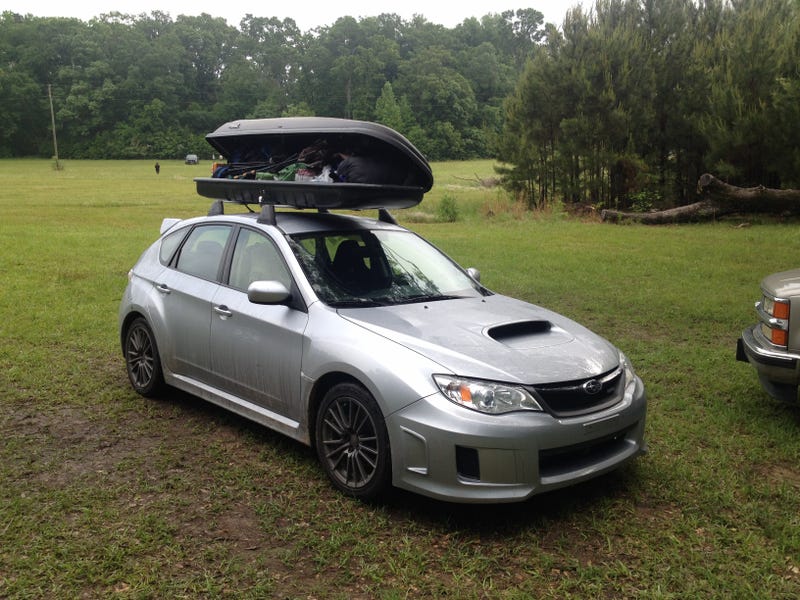 While preparing for a camping trip last month, a small fire in the old truck forced me to take the car instead. After packing it to the gills, I realized I was doing it wrong. I needed more space.
So, I went on a search for a decent cargo solution. I tried out a couple of options, but finally settled on a new hat. It's an older Thule Mountaineer that has seen some use. My complaints about it are minor and have nothing to do with how much it will hold.
We finally got to test it out this weekend with three-day, two-night camping trip. The hat held two full packs, two tents (one 4-person, one 8-person), fishing gear, a couple of sleeping bags, a couple of ground tarps, and some of our food. We had space inside the car for a cooler, another backpack, and three Boy Scouts. I could have squeezed in one more Scout, but nobody wanted the middle spot in the back.
It performed admirably. We had major storms in the area and despite driving through the weather, everything stayed nice and dry. I can't say as much for our tents.
To make the hat a little easier to mount and dismount, I'd like to update the mounting brackets, but it's going to take some engineering to get that done. It's also looking a bit worn and needs a coat of paint. This, I can do with just some time, some sandpaper and a few coats of Krylon. I went looking for custom paint schemes and wasn't disappointed: