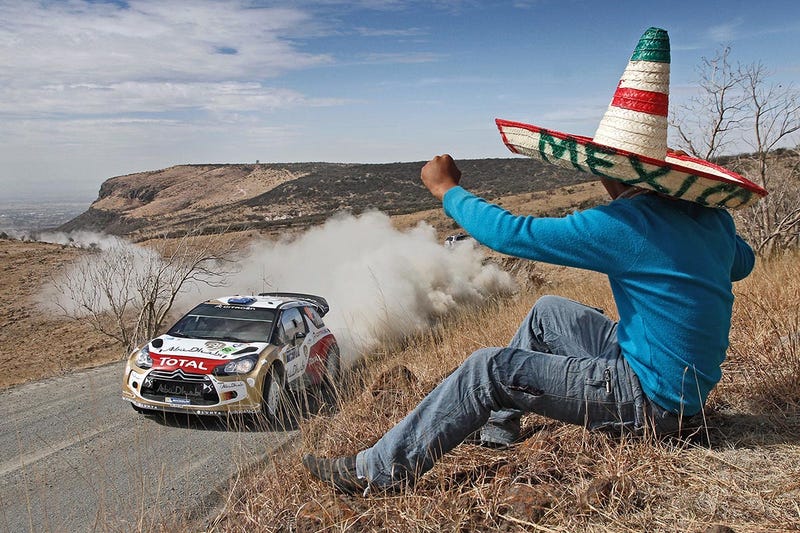 The second day of Rally Mexico is LIVE. You can follow the action on live radio, and SS4 have been broadcasted live on TV/stream. Everything worth to know is in the updates below. This is a live feed for todays stages like Dusty did yesterday. You can contribute to the feed by commenting (or use mod power like DV), and I'll edit them in.
19:07: DV: Here's the overall standings at the end of the first full day. Not included are Kris Meeke, Mikko Hirvonen, Robert Kubica, and Andreas Mikkelsen, all of whom will be restarting tomorrow under Rally 2 rules.
18:25: H: Chris Atkinson doesn't run at walls for practice. And with that insane superspecial it's time for me to call it a day. Be back tomorrow for new stages and new action!
18:19: H: Atkinson goes off in the same corner as Kubica! But he doesn't roll, and is able to continue with a minor time loss. Drivers are reporting that oil might be coming through to the surface from the new tarmac in Leon.
18:08: H:
18:03: H: Superrally for Kubica, that means a 10 min penalty. Such a shame, dropping from 4th place.
17:55: H: And Robert Kubica rolls his Fiesta in the super special! The driver and co-driver seems to be okay, but he loses a lot of time.
17:40: H: Overall results after SS9. Hirvonens, Meekes and Mikkelsens time is where they will start tomorrow. The next two superspecials will probably do next to nothing to the overall standings. But as they say, you don't win a rally in such a stage, but you can lose a rally!
17:15: DV: Things are beginning to improve for Hyundai Motorsport. Atkinson now in the top 10 thanks to loss of Hirvonen and Meeke, Neuville up to sixth and closing on fifth place Evans.
17:13: H: SS9 WRC Results:
17:07: DV: Kubica now third quickest in stage 9, just 2.7 seconds behind Latvala on the short stage.
16:59: H: 3rd quickest for Neuville! Not very big gaps though. Meanwhile, Colin Clark is walking into a nuclear reactor. GEIGERCOUNTER LIVE.
16:49: H: Latvala set the time 2:22:2, and he is faster than Ogier by half a second on the short stage. Østberg is still inside the fight for the win after completing SS9 3 seconds slower than Latvala.
16:40: H: SS9 is live, and in fact JML just finished the short 2.6km stage. This isn't the last stage today though, since the special stage (identical to SS1) will be ran twice later on. I might fall asleep before that, but we'll see.
16:29: H: SS8 WRC Results:
16:24: H: The retirements for Meeke and Hirvonen means Latvala moves up to 3rd, and Kubica moves up to 4th overall!
16:20: H: Damaged suspension arm for Meeke, after going to fast into a corner. Evans, Neuville, Prokop and Kubica have completed SS8, but no spectacular times..
16:17: H: Hirvonen reports that they have to retire...
16:10: H: Both Hirvonen and Meeke stopped in the stage.
16:07: H: Looking at the splits, Kris Meeke seems to be losing time (1 min). Right now it's quite uncertain what's causing it though. Mikko Hirvonen is also reported to have electrical problems.
16:04: H: Ogier faster than Latvala by 3.1 seconds on SS8, and Østberg is slower by about 4s on this stage. Østberg says that he is struggling on the second run when there are cleaner roads and more tracks in the gravel.
15:53: H: Still waiting for the complete WRC results for SS7, only missing Atkinson now. SS8 is LIVE, but sadly not on TV this time.
15:33: H: Some times are in now, and we have a new rally leader! The oversteering issues caused Østberg to drop 14.2 seconds to Ogier, who sets fastest time with 29:29.0. Meeke 2nd fastest so far.
15:23: H: Latvala, Østberg and Ogier have completed SS7, but no times appearing yet. Østberg complains about oversteer, and Latvala talked about lack of grip, so this might be a challenge for all the drivers. .Kris Meeke looks quite fast on the splits, but this is still very tight
15:05: DV: Lisa O'Sullivan claims "I'll C U When U Get There" is Becs' favorite song of all time ever. Becs threatens to quit reporting and go sunbathing if Lisa ever again suggests she has such terrible taste in music. Ahhhh, shenanigans!
15:00: H: Playing music on the live radio now, while the stage reporter goes from SS6 to SS7. The chorus goes: "I'll see you when get there, if you ever get there". Also very rally related.
14:54: DV: Neuville and Atkinson finally have a decent stage, Neuville 10 seconds down and Atkinson 17 on the stage.
14:50: H: SS6 WRC Results:
14:48: DV: Here's Hirvonen's cut tire from this morning. Amazing it only cost him a few seconds.
14:43: H: SS7 - El Chocolate 2 is now live, and JML have started the long, probably spectacular stage that caught Mikkelsen and Tanak earlier today. Ogier looks like the winner of SS6.
14:39: DV: Barely more than five seconds between the five fastest drivers through stage 6 (Ogier, Ostberg, Hirvonen, Latvala, Meeke).
14:36: DV: One more photo of Tanak's damage. When you need a jack to get your car off a rollback wrecker you know you done screwed up.
14:23: H: Ogier is quicker than Østberg as well, by 2.1 seconds. Time for Ogier: 7:33.7. That is a new stage record. Østberg still leads overall, but only just.
14:19: H: JML through SS6, he might be faster this afternoon. Usually not that much road sweeping on the second run. Ogier apparently quicker though.
14:16: DV: Photos of the damage to Ott Tanak's car. Tanak misheard a pace note, took a corner too fast, and slammed the rear end into something. Questionable if it can be fixed for tomorrow
14:10: H: And we're back live with the afternoon loop of Friday action from Mexico. The drivers have started driving the same stages as they drove earlier today.
————————————————————————————————————————————————————————————-
12:22: H: Overall results after morning loop. Østberg leads, but it's all very tight. Now it's service, and the afternoon loop starts at 14:08, with Los Mexicanos 2.
11:41: H: WRC SS5 Results:
11:40: H: Atkinson finishes SS5, so he's still in the rally. SS5 results coming up.
11:36: H: Not much news to report. All the cars are getting through SS5 inside 7 seconds. No news on Atkinson other than the fact that he has been trying to fix the issue on the road section.
11:20: H: Twitter provides a picture of Atkinsons rear wheel steering.
11:11: H: OY OY OY... Østberg loses 3 seconds to Ogier on the 2km stage. Hugely frustrating.
11:07: H: SS5 - Parque Gto Bicentenario 1 is already live, and Latvala an Ogier is through. Just a short 2.6km stage.
11:03: H: FreddsterExprs, the W108 guy comments:
It seems to be a tight top 5 battle. Let's hope they keep it together so that we can have a nice exciting rally. And I am glad that the Citroens are doing so well, as of now they are the only ones that can still match the Polos raw speed (more or less)
11:00: H: WRC SS4 Results:
10:59: H: The three wheel steering for Atkinson means that he lose another huge chunk of time. "An arm's broken in the rear", the Aussie says. Another short stage to be driven before service, so Atkinson is in trouble.
10:53: DV: Atkinson driving with three wheel steering. Aaaaaand that's two of my fantasy picks in trouble. Fuck.
10:51: DV: You can really see just how much the road has cleaned up after ten cars. The loose gravel is completely gone off the ideal line. That's what they mean when they talk about "road sweeping."
10:42: DV: The Hyundais are well off the pace today. Neuville is more than 90 seconds down after stage 4, Atkinsin more than two minutes after stage 3. Not the weekend they were hoping for.
10:36: H: Mikko Hirvonen finishes the stage, 3.0s behind Østberg. Kris Meeke also in, but slowest so far, 14.3 seconds slower.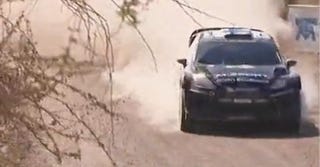 10:26: H: Østberg is fastest so far, with 1:18.2 He is very pleased, having fun and being fast. A shame that I don't get to hear the Norwegian part of the interview on the stream, as that often contains additional info.
10:23: DV: Ogier claws back three seconds in the second half of the stage, beats Latvala by 0.3
11:21: DV: Latvala through the live stage 4 in 11:24.0, setting the benchmark. Early splits suggest leader Ogier will be slower, Ostberg faster.
10:15: H: WRC SS3 Results:
10:12: DV: Meanwhile back on stage 3 Kubica lost the paddle shift on his car, was forced to steer with just his left hand and shift manually with his damaged right arm.
10:10: DV: Well that's a nice terrifying cliff on the one side there. "R5 into PUCKER!"
10:08: DV: Latvala is in the stage!
10:06: DV: Stage 4 ready to go live! Best video feed I've found seems to be this one. It's in English and everything.
10:02: DV: Brutal start to the rally for some of the fantasy chosen drivers. Atkinson stalls on stage 1 and drives stage 2 in road mode, losing a minute. Neuville loses a minute on stage 3. Mikkelsen goes off on 3 and destroys his suspension. Tanak stops a mile into stage 3 for as-of-yet-unknown reasons. Mulligan!
09:47: H: Mads Østberg sets a new fastest time, 30:04.8. This means we have a new rally leader! No more news on Mikkelsen yet.
09:40: H: Positive JML, but Ogier is faster. 30:18.7 for Latvala, Ogier is 10.9 faster.
09:35: H: Bad news is that Mikkelsen had an off midway through SS3, more to come.. Good news is that I've found a good working English stream, but should I listen to the WRC radio or the stream commentary?
09:20: H: Chris Atkinson completes SS2 after running the stage in road mode. This means a slower time, and problems on both SS1 and SS2 so far for Atkinson. He's 41.7 seconds behind Ogier, who wins the stage.
09:14: H: SS3 - El Chocolate are now also LIVE. This stage is a lot longer, with 44km.
09:11: H: Thierry Neuville, Martin Prokop and Robert Kubica finish the stage without any spectacular times. All of them have clocked in on about the same time as Evans. I'll give you the complete list once all the WRC-cars have gone through the stage.
08:58: H: Mikko Hirvonen and Elfyn Evans also through the stage. Mikko had a slow puncture, but managed to get through faster than Latvala. Evans slowest so far, 10 seconds slower than his teammate Hirvonen.
08:52: H: Kris Meeke is also in, but slowest so far.
o8:50: H: Mads Østberg and Andreas Mikkelsen through, both just a bit slower than Ogier, but faster than Latvala. Mikkelsen had some slight damage to the front of his car, and says that the dust might be a problem for cars in the stage.
08:44: H: Ogier though, 3.5 faster than Latvala. Not that much faster than Latvala then.
08:41: H: Latvala through the stage: "A lot of loose gravel. don't know how the time will compare to others." 7.43.7.
08:33: H: SS2 - Los Mexicanos 1 is now LIVE, with Jari Matti Latvala first in the stage.