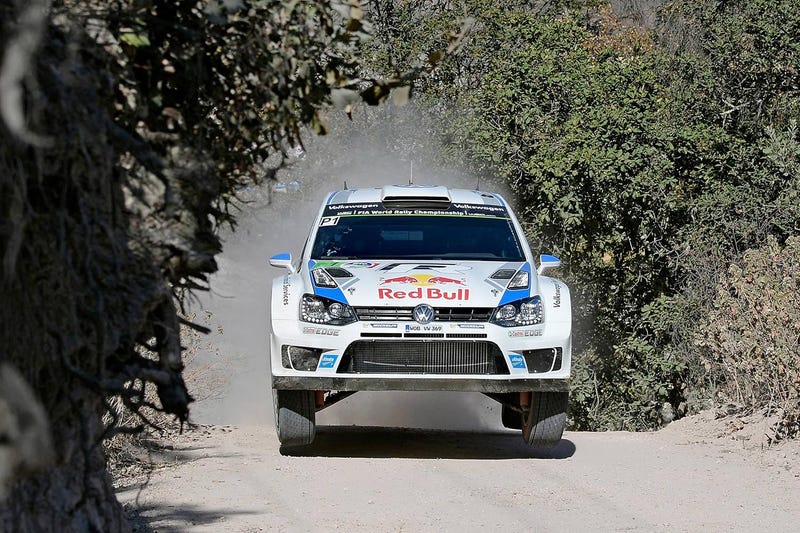 Welcome back to the live feed from Rally Mexico, and the third day of action from the WRC. Seven stages today, with SS16 being shown live on TV/stream on the afternoon loop. As always you can listen to the rally radio on wrc.com, and images, comments and results will be added to the feed below.
19:25: DV: No changes in position but a few minor changes in the gaps. Here are the overnight standings
18:53: DV: For the second straight evening we have excitement in the super special. Seb Ogier nearly rolls it in the hairpin, Kris Meeke spins and is forced to do a full 360, and Prokop does a half spin as well. This is becoming one of the most exciting super special courses in recent memory.
17:57: H: With SS16 finished, the main action of today is done. Remaining is two super specials, just like yesterday. I said yesterday that the special stages usually never alter the overall classification, but strange stuff happens. Anyway, I think it's safe to post the overall list after SS16, with Kris Meeke now ahead of Protasov:
17:48: H: SS16 WRC Results:
17:39: DV: Mikko Hirvonen upsets the string of Volkswagen 1-2 finishes and announces himself as a threat for tomorrow's power stage points by finishing second fastest, just 0.3 seconds behind Ogier. Mikko says he made a few mistakes and knows he can go faster tomorrow.
17:38: H: Could Hirvonen take fastest time? He was ahead on the split, but at the finish he was just 0.3s behind Ogier! Looks like Hirvonen is back to old speed here in Mexico. Mikko says that there is still room for improvement, so the power stage should be a good one!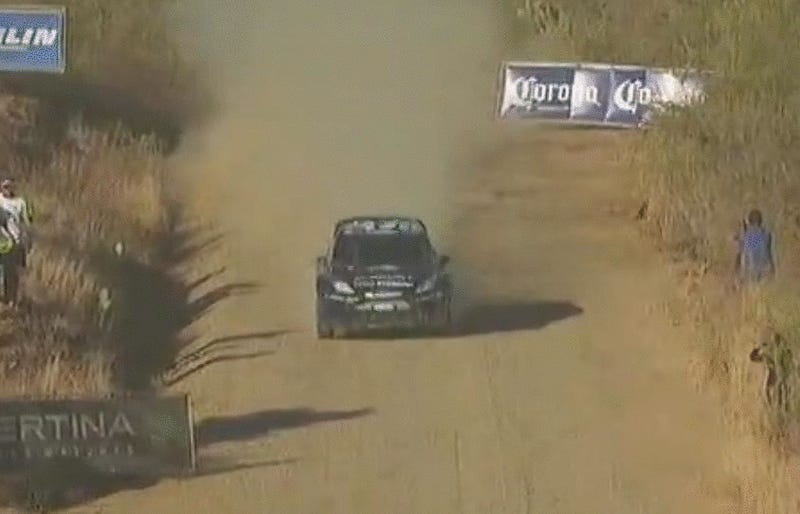 17:34: H: Of course, Kris Meeke takes the famous jump flat out.
17:32: H: But Ogier and Latvala are fastest once again! There seems to be nothing stopping the main VW men today, solid performance from both. 4:40.2 for Ogier, Latvala +2.3s
17:23: H: Both Prokop and Neuville is faster than Guerra. Neuville posts 4:45.9, with Prokop 7 seconds behind.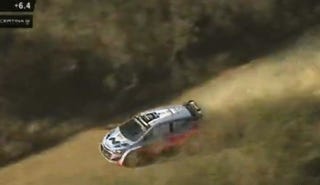 17:17: H: Guerra is 0.5s faster, fastest so far as Thierry Neuville starts the stage.
17:14: H: Atkinson just through the stage, and puts up the time 4:56.4.
17:06: H: OUCH! They just aired the footage of Mikkelsens roll, and it while he did end up on his wheels, it hit quite hard.
16:48: H: As the live stage is about to start in about 15 minutes, you might consider starting up your television apparatus or the stream of choice. I've linked to the DV-approved stream from yesterday in the text above.
16:41: H: Protasov is, as expected, a lot slower than Hirvonen in this stage. The Finn passes the WRC2-driver to take 8th place overall. Third fastest for Mikko on this stage. He would have been on the podium without the alternator problems?
16:37: H: SS15 WRC Results:
16:32: H: But of course, the two VW drivers are fastest now as well. Ogier 30:19.8, Latvala +3.7s. Meeke is third fastest so far, 16.4s behind Ogier.
16:18: H: Apparently, Guerra hit a tree, pushing in the drivers side door. Neuville is in, setting a new fastest time with 30:37.0, and will probably pull off a gap in front of Evans.
16:17: H: Both Prokop and Guerra is faster than Atkinson, Prokop by half a minute.
16:15: H: Atkinson sets the benchmark time with 31.59.9. Guerra is also through, but shows up with a damaged door! Not any other damage though, and he should be able to continue.
16:09: H: Kris Meeke is also very fast, might even be quicker than Latvala this time. Atkinson soon through the stage.
16:08: H: Looking at the splits, Sebastien Ogier looks like the fastest driver once again. Only Latvala seems to be able to keep up, the reason most likely all the retirements. Tough rally.
15:54: H: "Where are you, Steven?" Our very own DV gets mentioned on the live radio!
15:44: H: SS15 Otatitos, the little brother to the 50km monster Otates that claimed Mikkelsen and Kubica earlier today, is now live. Otatitos isn't as long as Otates, but the 43 km (26 mile) stage should be a challenge for all of the drivers.
15:09: DV: Hirvonen outran WRC2 driver Yuriy Protasov by 1:19 on that last stage. Protasov is 8th overall and Hirvonen is 9th. Hirvonen now 1:28 back with the 27 mile Otatitos stage up next. Hirvonen may be able to claim 8th in the next stage.
15:04: H: SS14 WRC Results:
15:01: DV: Three fastest through the stage are Ogier (17:30.0), Latvala (+3.5), and Hirvonen (+6.3). Hirvonen still third fastest out there, making his alternator failure yesterday even more frustrating.
14:57: H: Ogier and Latvala turn up. 17:30.0 for Ogier, and Latvala 3.5 seconds behind. Neuville faster in the battle for third, but Evans doesn't really want to fight for third. Gaining experience is more important for the young Brit.
14:52: DV: Malcolm Wilson has told Mikko Hirvonen to go flat out and build confidence in his speed and abilities. Split times suggest Mikko has taken the instruction to heart.
14:45: DV: Mikko has a close call with a cow who forgot to look both ways. I suspect this clip is from yesterday.
14:42: DV: To be a rally driver/co-driver at the top level you need to not only be a good competitor, but also a good mechanic
14:39: H: Atkinson is through the stage, with the time 18:15.6. About half a minute faster this time around.
14:32: DV: Beauty shot from Best Of Rally Live. Don't go wide!
14:30: DV: For you fantasy players, Ogier, Latvala, Neuville, Evans, Prokop, Guerra, Atkinson, Protasov, Hirvonen, and Meeke are all currently in the points. Ostberg is out of the points but has a decent chance of getting back in the points tomorrow via Rally2 rules. Mikkelsen and Kubica are out and will not be scoring points this weekend.
14:21: DV: The 19-mile Ibarrilla stage is now live, with Chris Atkinson leading them into the stage. 9 of the 12 WRC teams are still running at this point. Fastest time was 17:44.3 by Ogier in the first run of the stage this morning.
14:10: DV: Still waiting for the afternoon loop to start (about 10 more minutes). In the meantime here's Andreas Mikkelsen after his roll demonstrating that "OK" is a relative term
—————————————————————————————————————————————————————————————-
12:17: H: SS13 was the last stage before service. Now it's time to have some food and wait for the next stages. Oh, and overall standings:
12:01: H: SS13 WRC Results:
11:52: H: No! Ogier is even faster, but only by 2.0 seconds!
11:46: H: Neuville will move up to third, as Østberg is done for the day and will continue tomorrow. Latvala sets fastest time, 36:42.1. Can he close in on Ogier?
11:45: DV: Here's the damage to Mikkelsen's car after his roll
11:40: DV: With Neuville's fast time he moves ahead of Evans in the overall. With Ostberg in trouble this should move Neuville into a third place spot. Podium for Hyundai in Mexico?
11:38: H: Neuville fastest so far, with 37:19.7. Evans, Prokop and Guerra slots in between Neuville and Atkinson. Latvala still looks like the faster driver on this stage.
11:36: DV: Kubica has rolled as well. The long 33 mile stage is becoming another carnage stage.
11:30: H: Roll for Mikkelsen, thankfully both driver and codriver is okay.
11:28: H: Chris Atkinson is through, setting the time 38:38.2. We'll probably see much quicker times, Latvala looks like the man to beat so far.
11:20: H: Andreas Mikkelsen has stopped in the stage, not sure what kind of issue it is yet.
11:12: H: However, in the stage Thierry Neuville is looking quick on the split times, but Latvala is even quicker on the first one.
11:06: H: Østberg has stopped on the road section to do further reparations on the car. He won't get to the stage in time, but he says he could get through it eventually.
10:50: H: The long stage, SS13 Otates is now live. Remember, this is the stage where Sebastien Ogier encountered a closed gate last year! Will we see that this year?
10:32: H: Meanwhile, Østberg is doing a viking fix on the Citroen. Still in the rally, but how long will the fix last? Next stage is 53km long.. If he can get through that, service is next.
10:25: H: SS12 WRC Results:
10:13: H: Sebastien Ogier completes the stage with the fastest time, 17:44.3. Østberg loses 10.6 seconds to Latvala after that slight crash, but is trying to fix the car on the road section after the stage.
10:08: H: ISSUES FOR ØSTBERG! Hit a bank quite hard with the rear of the car, and the suspension is severely damaged. The main question is if he can continue the rally, and at what pace?
10:03: H: Kubica faster than Evans by 2s as well, but it looks like the next drivers will be faster.
10:00: H: Elfyn Evans sets a new fastest time with 18:24.6, about two seconds in front of Thierry Neuville.. Martin Prokop is also ahead of Atkinson, but only by 1.5 seconds.
09:48: H: Chris Atkinson, first on the road today, sets the benchmark with 18:42.9. No major issues for Atko. Splits looks quite tight so far, but then again the big guns haven't really started yet.
09:28: H: The first stage of the day, Ibarrilla 1 is about to start.About 30km, so we might see a lot of stuff happening here. The road positions have changed from day 2, so Latvala and Ogier don't have to do roadsweeping today.
If you want to catch up on yesterdays action, take a look at the live feed for day 2