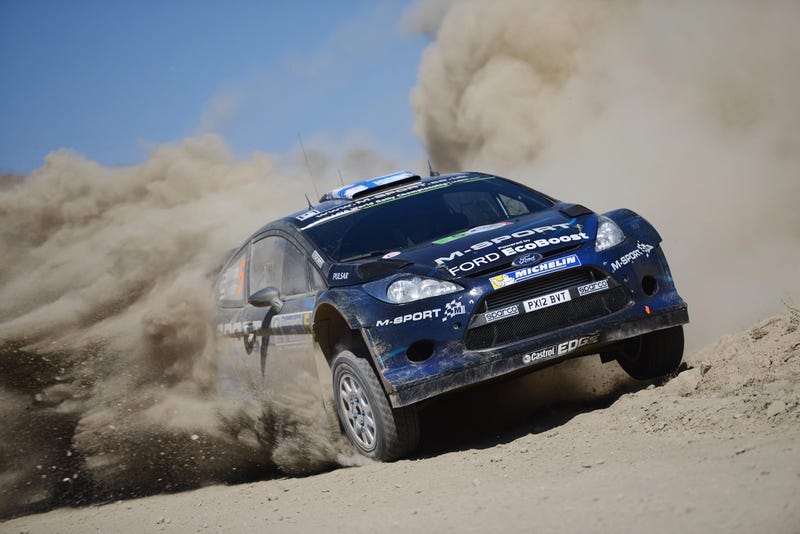 The final day of Rally Mexico is about to start, and will feature four stages. The morning starts with another run of the crazy superspecial, and continues with the longest stage of the rally! After that it's two shorter stages, with the last one being the power stage. The power stage will be on live TV (stream here), and until that goes live you can follow the action on the wrc live radio. The feed below will be filled with comments, results, photos and other stuff rally related. As always, you can contribute to the feed by commenting.
14:01: H: Neuville is now safe and back in service, using his podium beer to secure the podium spot. The results below are still the overall results, since all the cars made it back to service.

13:35: DV: It's not over yet! Thierry Neuville has a radiator leak on the final transit back to service. He's filled the radiator with beer in an attempt to keep the car from overheating. Even though the stages are done if the car doesn't make it back to service it would officially be a retirement from the rally.
13:16: H: Overall Results:
13:15: H: Power Stage Results:
13:05: DV: Ogier wins Rally Mexico, once again finishing ahead of teammate Latvala. Thierry Neuville finishes third, giving Hyundai their first ever WRC podium.
13:01: H: Ogier is fastest on the power stage, and wins the rally! No backing off there.
12:57: H: While the rain is starting to come down, Latvala sets fastest time with 4:36.0. Will Ogier back off? He is faster on the split.
12:53: DV: Latvala in the stage. Will he go for the power stage win or back off for Portugal road position? If Latvala is fastest will Ogier back off as promised?
12:42: H: Raindrops on the windscreen of Chris Atkinsons Hyundai. Interesting.
12:41: DV: Hirvonen through in 4:39.1. That would have been enough to win the stage yesterday, but sadly probably not enough to win today, especially with Mikko forced to do road sweeping.
12:35: H: The stage is now running, with Hirvonen well inside it.
12:28: DV: Commentators are now wondering if the tow truck will take the jump with Meeke's car on board.
12:23: DV: As we wait, here's a better stream of the power stage. English-speaking commentators and no lag
12:19: H: The front right wheel of Meeke is at a 90 degree angle, so he obviously hit a rock there. Rescue truck in the stage.
12:17: DV: Word coming in that Meeke clipped a rock, causing the race-ending spin. Meeke not letting Kubica take his title of "most accident-prone driver" without a fight
12:12: H: Meeke is blocking the road in a high-speed section, so the stage is put on hold for now. Hirvonen still at the start line.
12:10: H: SPIN FOR MEEKE, WHO HAS STOPPED IN THE STAGE!
12:09: H: Power Stage is now LIVE, and you can find a selection of streams in the link above. It's all in spanish though, so the rally radio will be the sound of choice
12:03: H: But it's another stage win for Mads Østberg! While he may not score any points on the power stage, he will leave Mexico with a huge confidence boost in front of Portugal.
11:52: DV: Sebastien Ogier says if Latvala is leading the power stage when Ogier goes through he [Seb] will back off and let Latvala get the bonus points. Why? Whoever is the points leader at the end of this rally has to start first on the road in Portugal and do road cleaning duties. Seb playing some tactics here in Mexico.
11:37: H: So far Hirvonen has set the fastest time on SS21, with 7:12.5. Meeke +3.5, Atkinson +14.1.
11:32: DV: In a brief interview between stages Latvala just said cryptically "Everything is almost okay." Interesting
11:28: DV: WRC2 Driver Yuriy Protasov loses six minutes on the 55 km Guanajuatito stage due to a broken drive shaft. That puts him just a few seconds up on Mads Ostberg with two stages left. Protasov currently sits in the final points-paying position. Maybe Mads will score points here after all.
11:25: H: SS21 - Derramadero is now live, with Kris Meeke first on the road. This stage is shorter, with about 11km to run.
11:09: H: SS20 WRC results:
11:05: H: The problems of Latvala mean Ogier is faster on this stage as well, but only by 7.9 seconds. Østberg is even quicker, with 35:45.8. Stage win for the Norwegian!
10:59: DV: Latvala out of the car and looking under the front end immediately after the finish. Concerned he may have a slight suspension problem. Could the notorious Latvala luck be returning?
10:57: H: Latvala completes the stage with the fastest time so far, with 35:59.4. Neuville actually goes faster than Meeke after being behind on splits the whole stage.
10:55: H: Some issues for the drivers coming in, but no major stuff. Atkinson had some issues with the brakes, and Guerra had a spin in the stage.
10:51: H: As the splits keep ticking in, it looks like this stage is between Østberg and Latvala. Ogier seems to be a few seconds behind, most likely saving tires for the power stage.
10:35: H: Meeke finishes the stage with the time 36:26.1, a time that will probably stand unbeaten until Latvala comes through.
10:29: H: Even more splits have come in, but only Latvala is quicker than Meeke so far. Of course, the splits from Ogier, Østberg and Mikkelsen haven't popped in yet, and they might be even faster.
10:15: H: The first few split times have started to come in, and even though Kris Meeke is first on the road, he's faster than Hirvonen and Atkinson so far.
09:59: H: The next stage, SS20 Guanajuatito, is the longest stage of the rally with 55.92km. As we've seen earlier, these long stages prove to be a huge challenge for the drivers and cars, and things will happen here as well.
09:35: H: And just as I posted those stage times, Ott Tanak comes through with 5th fastest! Impressive stuff by the WRC2-driver.
09:33: H: I didn't know that either... Anyway, SS19 WRC Results:
09:31: DV: Well there's an interesting fact I didn't know. Drivers who use Rally 2 to return to the rally can't score points on the power stage. That means Hirvonen, Meeke, Ostberg, and Mikkelsen won't be eligible for power stage points.
09:24: H: Ogier, Mikkelsen, Neuville and Latvala all finish the superspecial, with times in that order as well. Ogier with 3:22:0, and the rest of the drivers all finish within 4 seconds behind. Latvala with the same time as Hirvonen.
09:12: DV: After the first half dozen through the super special Mikko Hirvonen leads the stage by 0.4 over Kris Meeke and Martin Prokop. Behind that are Guerra, Evans, and Atkinson.
09:09: DV: Here's an excellent example of the brilliant skill of the service crews in the ability to bring cars like Mikkelsen's and Bertelli's back from the dead. Nice before/after right here.
09:07: H: While we wait for results to come in, take a look at this huge roll from Mikkelsen yesterday. He is lucky to be able to start today.
09:05: DV: There was rain in the region overnight, supposedly there are a few little muddy bits in the super special. It'll be interesting to see how the mud affects drivers on this stage and how the rain has affected the other stages.
08:57: H: SS19 is now live, with Kris Meeke first on the road today.
If you want to catch up on yesterdays action, check out the coverage here.