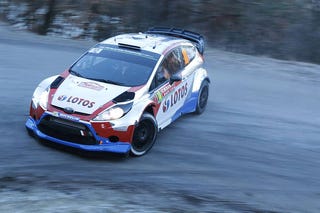 Robert Kubica showed everyone why everyone is keeping an eye on his progress in WRC. The rally started in typical manner: It was dark, there was snowfall, and nobody knew where the road would be dry and where it's slippery.

Kubica - just like everyone on slick tires - was 20 seconds faster than World Champion Sebastien Ogier. Keep in mind that this is Roberts first Monte Carlo rally and his first rally in the WRC Fiesta.
Not everyone was able to adapt that well though. Thierry Neuville, start driver of newcomer Hyundai, is out. Apparently he lost the car's front end due to understeer and crashed it too heavily to continue.

Bryan Bouffier also managed to get a good time and was second fastest, but the even bigger surprise was Sebastien Chardonnet. His time was the fourth fastest, but instead of a full blown WRC car he was behind the wheel of a WRC3 spec Citroen - we are talking about FWD car!


On stage 2 Kubica's show continued: Fastest once again. The whole field seemed to calm down, and Latvala came in second 4.5 seconds behind. Ogier meanwhile decided to not take any risks and brought the car home in fifth.

Overall this seems to be another great Monaco Rally with much action going on. Let's see how the rest of the day turns out to be, maybe the established drivers can strike back. I also have the fear that Kubica might go a bit too fast and crash his car.

Standings after WP2:
01. Robert Kubica (Ford) - 12:19,1 Minuten
02. Sebastien Ogier (Volkswagen) + 36,8 Sekunden
03. Kris Meeke (Citroen) + 39,3
04. Bryan Bouffier (Ford) + 41,8
05. Mads Östberg (Citroen) + 42,6
06. Dani Sordo (Hyundai) + 1:15,3 Minuten
07. Jari-Matti Latvala (Volkswagen) + 1:18,4
08. Sebastien Chardonnet (Citroen) + 1:25,7 (WRC3)
09. Elfyn Evans (Ford) + 1:28,0
10. Mikko Hirvonen (Ford) + 1:40,1
Hoccy provided me with the SS3 stage times:

1. Bouffier 14:04.1
2. Evans +0.5
3. Sordo +8.0
4. Meeke + 16.1
5. Melicharek +34.5
8. Østberg +1:13.2
10. Kubica +1:24.3
11. Ogier +1:24.3
12. Hirvonen +1:34.1
13. Mikkelsen +1:56.9
14. Latvala +2:27.6

It seems that Bouffier, Evans, Sordo and Melicharek were all on a mix of winter tires and dry tires and therefore could set incredible times. That's why we love the Monte Carlo round: You never know what might happen.

Here is an updated overall classification, right now there is a break as all cars are in the service park.