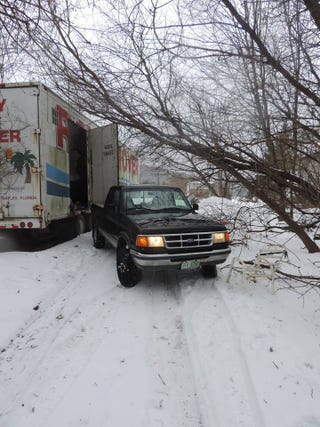 Mostly moving stuff around my yard and putting it in this ULTRA SUPER DUPER WEATHER TIGHT STORAGE AREA with a collapsed roof. License plates, VW parts, a few cars and like, rust porn (?) I guess. Was fun to go around the yard in 2WD, except for that one time where I almost slid into my uncle's shitty ass camper.


The tire track closest to the camper was my front tire, and the whole truck was sideways. Close one.
Looks safe.
Note that awesome wall curve.
These were the wheels that were going to go on the back of my green Beetle. Just a hair too wide. :(


Makes good steps like this. Step into the bed, walk around the door, and step into the trailer.
Stack I found yesterday.
Kinda want to get this light down and use it for a fog light or something.


Damn bumper is still bent from the accident, appraiser should be here today.
And then, donuts:
And we'll finish with a glamour shot of the truck, for desert: