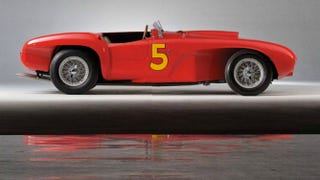 James H. Kimberly , "Gentleman Jim," as he was often known, was the grandson of one of four founders of the Kimberly-Clark Corporation, which produced Kleenex and a variety of other paper products. No doubt he enjoyed a privileged life, yet he spent time shoveling coal and doing hard labor, as well as serving in the Navy during World War II. After the war he joined the elites of the time racing Ferraris, Aston Martins, and Maseratis wearing relatively little personal protection beyond goggles at famous tracks like Watkins Glen and Sebring.
This bespoke Ferrari 375 MM was bodied by Pinin Farina using designs Gentleman Jim provided. It is one of the earliest examples of a pontoon-fender sports racer, paving the way for Scaglietti's yet-to-be-born 250 Testa Rossa.
The basics:
340 bhp, 4,494 cc overhead-camshaft V-12 engine with triple Weber carburetors, four-speed manual gearbox, independent front suspension with transverse leaf springs, live axle with parallel trailing arms and semi-elliptic leaf springs, tubular steel frame, and four-wheel drum brakes. Wheelbase: 102.4 in.
The results: 1954 SCCA National Champion
In an exciting round of auctioneering, the 375MM brought in $8.25 million. Tonight, the big story will be the 275 GTB/4 NART Spider. You can watch the auction live tonight at 6:30 PM Pacific Time.
Photos courtesy of RM Auctions