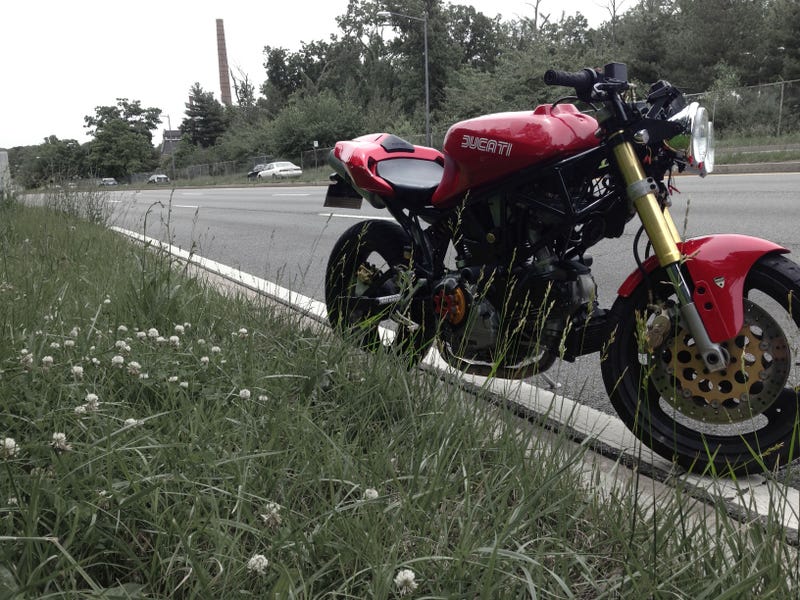 I wish I had some super secret spy tip, or specs on the BRZ STI, but instead i am writing to you for some help and support.
Last night my younger brother's 1998 Ducati motorcycle was stolen off the street in Washington DC. As you know, most bikes are never found, never returned, and recoveries are a very low priority for law enforcement. We could really use your help finding her. You have a much louder voice and far more eyes that we do. I do not have deep pockets, but i will give a cash reward and a case of GOOD beer to info that leads to this bike's recovery.
Some background on this bike, it's a 1998 ducati 900SS. At some point it was in hurricane floods in florida and after that my brother bought it sight unseen and began pouring his time and efforts into making it whole again. He could have bought a new bike, but this bike was a birthday gift to himself and distraction from sadness in his personal life. Ressurecting it is meaningful to him, an extension of his emotional healing, and so he has been spending his time making it right again. Her name is Daisy Duc.
At first, the bike barely would run and it needed...nearly everything...it had been modified by a previous owner and although it looked good, most of the modifications were half-assed and the rest didn't work. My kid brothers replaced the broken seat, rebuilt the carbs, rewired the entire front half, installed working hand and foot controls, dealt with loads of electrical gremlins, added new decals, rebuilt the entire braking system, fixed an exhaust header that banged against the rear shock, chain and sprokets, fluids....basically he'd gone through 5 months of rehabilitation from top to bottom.
Myself and another brother have gone to DC to resurrect it with him and so it has become like a family member to us. We're all invested emotionally. Mechanically, he finally made it to solid ground about five weeks ago and began the tagging process for a flood salvage bike which is likewise tedious.
He still had to get it legal and the state could easily just say 'no' since it was titled as it was. All the while the municipal part of his journey has been likewise wrought with oppression and hurdles. It took nearly six weeks for him to get the bike re-certified as street legal because with a flood title it had three extra hoops to jump through, and the few people who can re-certify it were on vacation when he finally got it mechanically and electrically safe and clean.
Last week he was finally able to get it tagged in DC after untold efforts.
Last night it was stolen from the street.