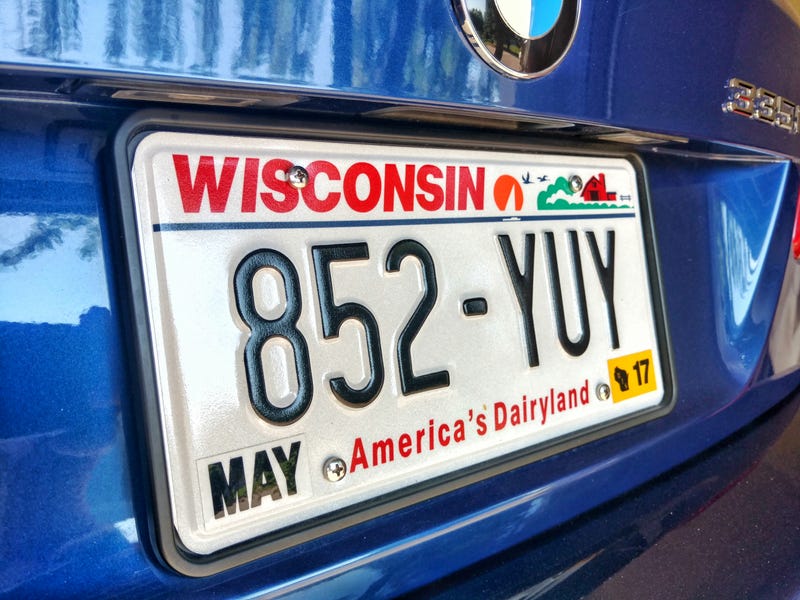 Do you hate license plates, license plate frames, and (shudder) dealer license plate frames? Well then, have I found the most amazing invention for you: the amazing, incredible, recessed license plate frame.
I absolutely despise dealer tag frames, but I also kinda hate the other assorted tag frames that have those ugly tabs that go in front of your license plate. Those are only useful if you've got an old, chewed-up plate and you want to hide its general shittiness.
Recently, I stumbled upon the amazing invention of the recessed license plate frame in the automotive section at Walmart. There was one, and only one of them, left on the shelf. It cost 6 whole dollars and is the very tag frame you see in the picture above.
The amazing innovation of the recessed license plate frame is that it still has little tabs but they go behind your license plate so the license plate frame looks as if it's floating in the frame.
I love this license plate frame so much that I decided to put some on my fiancee's Impreza that unfortunately has a front plate on it (but really is better that way because it's our "normal" car unlike my bright blue not-quite-stanced BMW coupe with tinted windows). I went back to Walmart and lo and behold they had another solitary recessed tag frame that I put on the front of the Impreza.
I like it in this application because our dumbass Subaru dealer screws license plates into the front bumper even though there are goddamn holes in the bumper that line up with a license plate bracket that Subaru makes. Why buy a bunch of front plate brackets from Subaru when a couple self-tapping screws in the bumper will do?
If I had been there with my fiancee when she picked up the car I would've stopped the dumb sales guy from committing this atrocity, but here we are.
For the back of the car though, since it's white, I thought, what about a shiny metal recessed tag frame? No such frames exist at Walmart, but a short trip down the street to O'Reilly yielded a polished metal recessed tag frame. This one was a real splurge at 9 whole dollars. O'Reilly also sells a black one like the Walmart one but why spend $9 at O'Reilly when you can get the same at Walmart for $6?
Ladies and gentlemen, do yourselves—and your license plates—a favor. Go out and get some recessed tag frames. You'll thank me later. Or just thank me now, for expanding your consciousnesses with this totally groundbreaking breakthrough in license plate mounting technology.