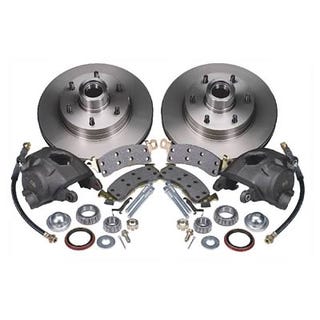 Got my tax refund checks in the mail, and went on a bit of a spending spree. I currently have 8 packages on their way to me.
For the '64 C10 Pickup:

-Complete 6-lug disc brake upgrade kit.
-Brandy-new disc/drum master cylinder and proportioning valve.
-2.5" drop spindles.
-complete front suspension rebuild kit
-Class III hitch.
-63 amp Alternator & connector(to replace the growling 37 amp stocker)
-30amp rated fuse block(so I can wire the overdrive transmission and headlight relays)
Plan for the spring is to completely rebuild/upgrade the front suspension & brakes, and install & wire the 3-spd overdrive trans. That should make it a more solid driver.
For the '96 Suzuki GS500e:

-Rear brake rotor & pads
-Front & rear wheel bearings
-oil filter
-air filter
-clutch kit
-fork seals & fork oil
-keyless gas cap
-brushed copper chrome vinyl(current wrap was damaged when it fell over, instead of fixing it I'm re-wrapping it in a different copper vinyl)
Plan is to fix the major issues that showed up riding the bike last year, so it is safer and more enjoyable to ride this year. I expect to put a *lot* of miles on this thing.
For me:
-Fallout 4 for the xbone
-$50 amazon gift card(bought with the points from the other purchases).
Still to buy:
-rear axle beam bushings for the xB(current axle has a worn shock mount, junkyard replacement axle needs new bushings & a repaint before install)
-shocks for the pickup(I forgot to order them with the rest)
-sand-blasting & powder-coating for later wheels to fit over brakes
-shortened driveshaft
-gaskets to once again try and stop the Valdez level oil leaks on the pickup's engine.