To be fair, it's not entirely the product's fault (though it does have some GLARING design faults that are obviously engineered fail-points), it's the dealership's faut, compounded by my fault of trusting what are apparently a bunch of (generously) lazy fucks who are not good at thier jobs.
To recap: I bought a 2012 vintage 448 round baler with "All the options", in as much as that is indeed what it is, I got what I payed for. It was advertised as "field ready" and a "creme puff that's only done ~3000 bales"
I saw the baler in February, looked it over quickly, it was cold and crappy and it was outside and I didn't go through it with a fine toothed comb, but I still noticed a few little issues with it... A missing wheel bearing cap and a bodged together repair to the bale shape indicator system. I am looking through my phone now, and I somehow failed to take a picture of that. Oh well, thats the least of the problems. The bale shape indicators are a luxury, if they don't work the baler still makes bales...
In any case, I mentioned it at the Sales Guy said "Oh, we'll take care of all of that! This is a great baler, I know the owner, We'll stand behind this, it'll be absolutely ready to go" I thought to myself "this is a $14,000 sold by a dealership, and it IS shiny, and they've said they'll stand behind it, so it's probably fine... plus I can get financing at a really attractive interest rate, lets do this!" I signed the paperwork and said we'd be in touch for delivery in the spring.
Covid Crash. First thought: I should have sold some stock and paid cash for that baler...
G/O Media may get a commission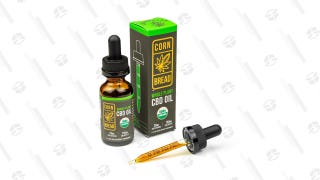 Certified Organic CBD Oil
Months Later: Call them up, lets get it here, weather looks like it's almost ready for first cut...
Machine is delivered and it is obvious that no one has touched it since I saw it on the lot. The wheel bearing cover is still missing and the bale shape indicator system is a mess of rotten wire and frayed twine just like it was before.
This was my first clue.
I start opening it up and taking a look at the driveline:
HOLY SHIT.
There is a missing chain guard -asside: if John deere had put a fucking idler in there they wouldn't need the goddamn chain guard that has gone missing and this kind of damage would never happen in the first place- and the chain had worn it's way halfway -probably more like 3/4- though the axle tube for the tension arm pivot. This is an expensive part ($1300), and if it were to snap while in operation it could do damage to other parts of the baler.
I call (leave a message) and email about it and they sort of hand wave the damage, "we'll get you a new chain guard and wheel bearing cap, don't worry, that will probably hold. Maybe run a bead of weld down the grove, that will for make it for sure fine." Meanwhile I have stupidly fixed the bale shape indicator system myself using stainless wire, to the tune of ~3 hours labor.
This is plausibly in the "wear and tear" category and I think to myself "well they said they'd stand behind it, so if this fails they should fix it" I'm a fucking massive pessimist when it comes to humans in general, but a sappy, pushover optimist when it comes to people individually.
It's a failing.
So I lube the chains and check out the pickup and rolls. There's a broken tooth on the pickup rotor, but only one is not a big deal, and surely falls under the "normal wear" header. The rotor is a $1700 part... but one broken tooth is not unexpected in an 8 year old baler.
Meanwhile: The same dealership has had my Zetor for aircon work. they've had it for nearly a month without touching it... I call and mention that I'm gonna need it back for hay in the next week, and if they can't get to it before then, I need it back anyway. Please.
Magically it's done that afternoon and returned. On the plus side the bill was reasonable and the A/C blows like an icy arctic gale, so I guess that's OK. The A/c guy they have on staff is well known locally for being good at making tractor A/c systems work, and that seems to be true. 
Now that I have the tractor that will be hauling this baler back, I can work on integrating the relatively simple electronics for the bale alarm and electric tie...
long story short: several hours and multiple trips to the auto parts store for connector and bits and it still doesn't work. The bale alarm doesn't seem to work and the tie control box is missing the connector for the motor and appears to do nothing.
I open it up:
What even is this? Who put those ring terminals on there and why? and why is the connector missing? This control box lists for $900 from Deere, All I can say is I hope Deere and Co gives thier dealers a good markup on this too becuase I could build this with parts from Amazon (barring the code in the microcontroller and specs for the current sensing resistors for the the motor) for ~$50. Retial. Thats INSANE. But the price of the part is neither here nor there, they fact is, it's busted. I even re-wired the switch, it will only run the motor in one direction.
We are now firmly into the "not field ready" category. This will NOT run the twine tie system. I am no longer irritated, I am very angry. Also, just yesterday I sold my old WORKING baler. I call and write such to the sales guy, he's my only contact at the dealership... he writes back and says "it was making bales when I saw it, let me get in touch with the guy who owned it...."
he then writes back shortly afterword and says "guy feels bad about it not working, he's gonna stop by this morning (2nd day after saying this was a problem) and talk to you about what he's done...
I write back "I'm not much concerned with how the previous owner feels, I'm concerned with how this baler was represented to me at the time I signed the $14000 loan and you got paid"
there is no response to this.
Lo and behold the PO of the baler actually show up. He shows up with this.
He then goes on to regale me about how the bale alarm hasn't worked for years and he's had to replace a lot of belts in this baler... "the shop guys say I must be over loading the baler and stretching the belts, but since they have to cut the belts shorter to remove the damaged section and then splice in a new section that must be bullshit, because they have to make the belts longer. Dealerships, right?" This is 100% a sign of constant overloading from the faulty bale alarm.
He then says "I had to weld that one arm there, on the aux takeup roller, that broke last year, we did a couple hundred bales on it, it should hold, but the part's not too expensive ($250)" This is another sign of serial overloading.
He THEN goes on to mention that the slipper clutch has needed to be adjusted a bunch because he was breaking drive chains... can you guess? Yeah, thats something that happens when the baler gets overloaded regularly.
I ask him about the chain guard he says "There's never been anything there"
Yeah, yeah there has, the stubbs of the broken off tabs prove that. Idiot. I mention to him "if I had wanted a project baler, I could have bought one" he says "I didn't want a project baler so I bought a new one"
Fuck. Me. Running. Agnes.
He brought the manual and an extra belt, both of which I have been waiting for and was promised from the start.
He also mentions that the counter has turned over, and it's got ~13000 bales on it, not ~3000 as advertised. I mean, lets be honest, that's still not a huge count, and I don't really care other than the false advertisement.
He kinda shrugs and leaves.
I email / call the sales guys again. the jist is "this is not a feild ready baler, it needs to be fixed and I am very unhappy, what are you going to do about it? P.S. I have to mow on Sunday and that means I need a working baler by Tuesday, Wednesday at the latest."
he emails back and asks for the part number of the control box... but no timeframe, no offer of a loaner, no statement that he'll fix it.. in fact I get this:
"I want to help you I really do, but please keep in mind this is a used baler. A new baler is $ 34,000. It's a one owner, he took good care of it and I say that because of what I see everyday on used balers. Regardless of what you may feel right now this is a very good baler that will last a very long time. I am looking into the control box issue and what can be done. I do want you to have a good experience with our dealership. I do care about my customers and I do care about you and your operation. I want us both to be successful and I want future business. I will get back to you I promise."
That's most of the right words (aside from telling me how much a new baler is, I FUCKING KNOW how much a new one costs you prick.), but I am no longer feeling good at all about this. Not one bit.
Just for an example of the detail oriented nature of the dealership, the baler is listed as "new"condition on the official paperwork for my John Deere Financial loan.
Tell me I'm right to be fucking pissed about this, and suggest anything you can think of. I need to go read the consumer protection laws in Vermont as they relate to used farm equipment. I am ripshit.
Thanks for listening Oppo.