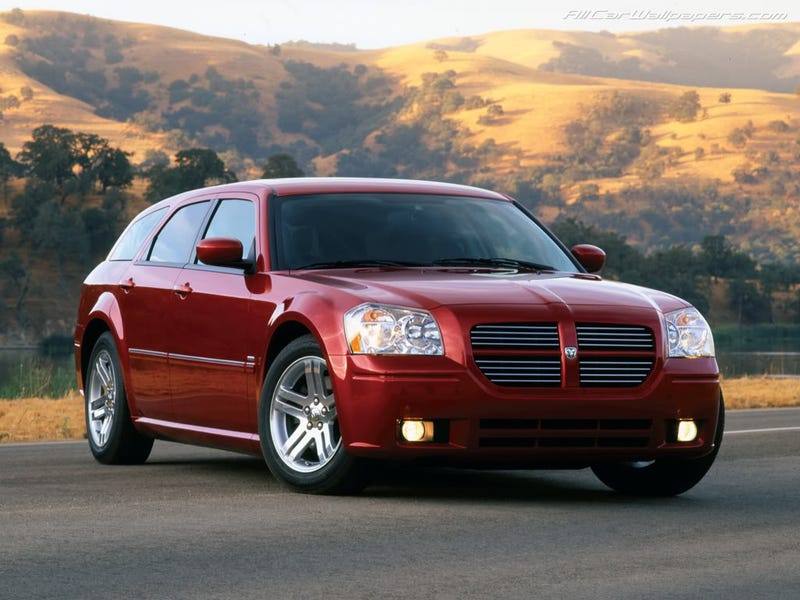 I'm talking about the wagon, of course. The name was used in the early 80's apparently for a coupe before being brought back in wagon form with the potential for a Hemi V8 in 2004.
I remember seeing the Magnum at the Boston auto show that year (or 2005...I forget which). I was a baby-faced high schooler able to get in on children's admission when my friends and I saw it: black, Hemi, wagon. It was a raffle that I signed both my parents up for (had to be 18 or older!) even though I didn't have a chance in Hell of winning. Those entries resulted in my parents getting quite a bit of junk mail for "no apparent reason whatsoever".
Fun facts:
- The Dodge Magnum was the last mid-sized station wagon sold by an American manufacturer.
- AWD was an option on SXT and RT models in 2005.
- The SRT-8 had a 0-60 time of 5.1 seconds.
- The Magnum was sold as the Chrysler 300 in markets outside of the US.
- In November of 2007, Chrysler announced "The Magnum, along with the PT Cruiser convertible, the Crossfire, and the Pacifica were not earning their keep."
- The Magnum was, essentially, replaced by the Journey. -_-
Sales figures
| | |
| --- | --- |
| 2004 | 39,217 |
| 2005 | 52,487 |
| 2006 | 40,095 |
| 2007 | 30,256 |
| 2008 | 6,912 |
| 2009 | 113 |
Not bad, actually (you know, until they decided to stop making it right after an update).
All this came from my morning commute where an RT Magnum was in front of me and had a very nice V8 rumble upon pulling out of the street. I quite liked the Magnum and still do. I'm a little upset at myself for having forgotten about it especially as it was the first wagon that I personally wanted.