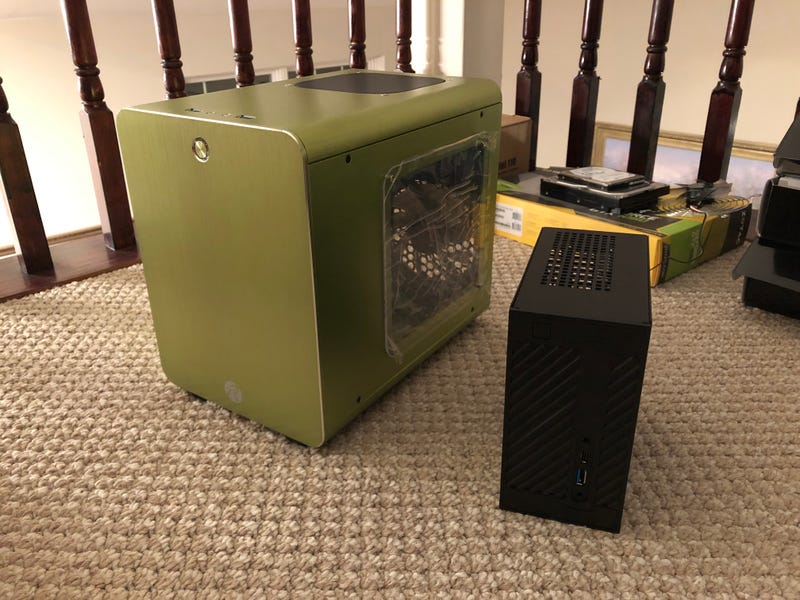 I've finally finished them.
These two builds had a bit of a learning curve to them.
Apparently ASRock boards have a common issue where if you use a tv as a HDMI output, sometimes the tv will see the PC as an unsupported format during post. After a week of fighting both PCs, I gave up and bought a monitor for a few dollars from Goodwill.
Now they post. There was nothing wrong with either board, the tv just couldn't see their Bios!
The little computer is destined to become a desktop that becomes a laptop with the help of a Motorola Atrix Lapdock.
Yeah, it's going to look a litttttttle weird in its laptop configuration.
What is an Atrix Lapdock? It's an accessory for a Motorola smartphone where you can "dock" the phone to it and turn your phone into a laptop. As it turns out, these things are super popular with the Raspberry Pi community to make "Pi-tops". Logically, a mini-Windows computer should be able to use it too. Windows will see it as a HID device and it'll operate as a laptop with desktop architecture.
The little ASRock Deskmini 110W build is called "Legacy 510" (Embraer Legacy 500 + Intel HD 510). It's designed to replace a ten year old MacBook that I accidentally killed one night after too many glasses of wine. The replacement was originally supposed to be a MacBook Pro, but we all know what happened with that thing.
- ASRock Deskmini 110W - $130
- ASRock H110M-STX - (came with the Deskmini)
- Pentium G4400. - $50
- 4GB Corsair Value Select - $50 (have to get the RAM ASRock specifies or it won't post).
- Custom LED low profile CPU cooler (I cobbled together some Amazon items). - $15
- 500 GB HDD from the MacBook it's replacing.
- Motorola Atrix Lapdock - $20
Total cost = $265
And now for my favourite of the two builds, meet the CRJ750!
This one is the ITX build. (CRJ700 aircraft + GTX 750).
This one is meant to test game mods before I put them into the "production" computer I call the "DC-10-60".
- Raijintek Metis Plus - $60
- ASRock H110M-ITX - $60
- Core i3-7100 - $100
- GTX 750 - $15
- 4GB RAM (come on, ASRock) - $50
- 1 TB HDD salvaged from another PC in the house.
Total = $285
This one also suffered from the same issue that comes from having a H110 ASRock board. The monitor solved it for this one as well.
And finally, my bestie made a decal for the DC-10-60: