It's official. I am starting the project to remodel the kitchen and dining room. We are knocking a wall down and turning it into one big space. We are also going to do a built in desk for me in the kitchen where I have a bay window. This means new computer time, which hasn't come for 10 years.
I'm very likely to just go buy an iMac with the retina display, the built in VESA mount, and this...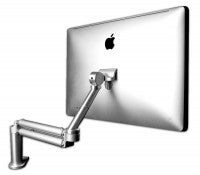 It's $425 and will work with the 100x100 VESA plate on the iMac. I'll have the fabricator put a mount hole in the stone for this.
Does this seem reasonable first off, and second, would I be crazy for wanting to install Windows 7 on it to play more SimCity 4?