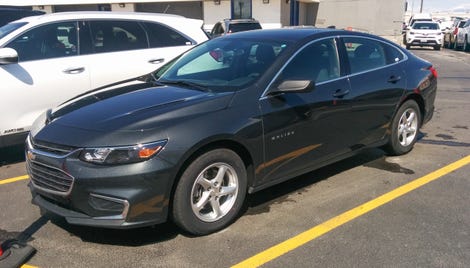 I like it, but with caveats.
Steering is crisp and responsive. Ride is excellent and very quiet. Driver seat is very comfortable and very adjustable for being a non-powered seat. This car is more comfortable than an Impala.

Power is adequate with a four-cylinder of some kind, and 80 mph in Utah and Idaho nets me an mpg average above 30 mph. Brakes are very effective and responsive.

The electronic driver interface is not overly complicated. The ChevyLink system took on my Nexus 5 phone quite easily and also works well with my older iPod Touch on a USB cable.
In all, I'd call it solid, though relatively basic, transportation.
Some rubs:
Like a hybrid, the engine cuts out at stops, and restarts when you release the brake pedal. I'm not sure how running A/C might affect that, since it's only 42 degrees outside.
There is no compass. This is 2017. Really?
I don't like keyless ignition. So much complexity.
All openings are designed to drop snow into interior spaces.
Build Quality:
Feels solid and quiet, but at only 9,500 miles, the driver's seat bottom upholstery is aready a bit rumpled.
There is assembly adhesive between parts on the dash.
The steering wheel controls have a sort of rubbery cover to them that I expect will look like CRAP in a very short time.
Overall Rating: B+
Overall Expecation for the Long Term: C
I'd be scared to death of buying one for the mechanics' bills that are sure to come in later years.