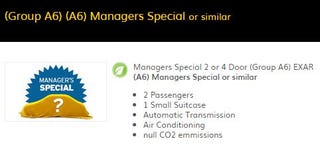 So the wife and kids have been visiting with her parents for the last week. I'm going to join them for the next week, as I couldn't take two weeks off of work, lol. As much of a Tank as the Crown Vic is, I don't want to put that kind of stress on it. So I ended up renting a car through Hertz as I get free Gold Club membership through work and I have AAA for that discount. The cheapest option, which I have selected for my trip, is the "Manager's Special." I'll let Hertz describe that for you:
Manager's Special

With the Manager's Special, you'll get an Economy or larger vehicle at a rate that is equal to an Economy car.

When you arrive to pick up your car, the location will pick the vehicle for you: you might get an Economy car, a Mid-size car, a Minivan, or an SUV... it's a special deal!

The Hertz Manager's Special guarantees a great rental with room for at least four passengers and

two pieces of luggage.

-Rates equal to an Economy

-Economy car or larger vehicle, guaranteed

-Pick up location determines vehicle at time of pick up

-Vehicle will have at least 4 seatbelts

-Room for 2 or more pieces of luggage

 


Come pick up your rental and let us surprise you!
Has anyone on here had experience with renting the "Manager's Special"? If so, what did you get? From what I've read so far, the Toyota Yaris 5-door seems to be the most probable option. Whatever it ends up being though, I'll be sure to give it the 'ol Oppo review. I pick it up, whatever it is, at 10am tomorrow, so I'll post up then what my steed is for the day.