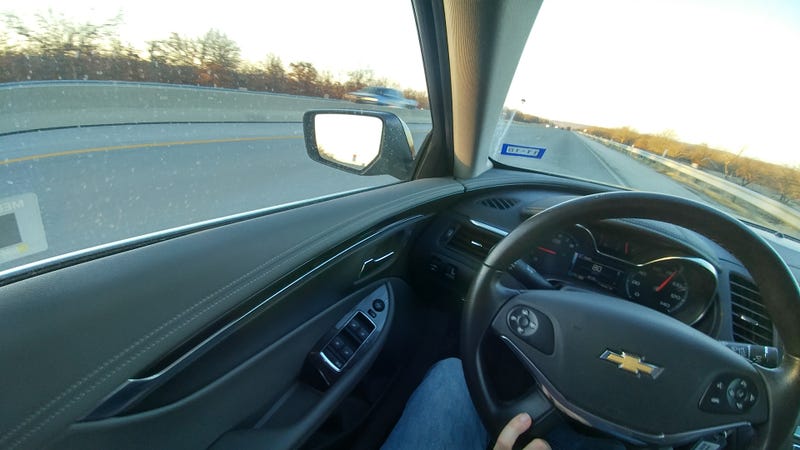 Right, this week in the misery that is corporate rental policies, we have a black-and-bird-shit colored 2017 Chevrolet Impala V6 with around 40,000 miles on the clock.
[Full Disclosure: Chevrolet wanted me to drive this car so bad they sold one to Enterprise over a year ago and it eventually found its way to my local Enterprise dealer. My company paid for the rental due to corporate policy requiring a rental when the drive is to exceed 100 miles.]
For those of you that have made it this far, I'll go ahead and just say it: the car was pretty OK. As a general rule I hate every rental I've ever had, with the exception of a Cadillac CTS and a Ram 1500, so thinking it was OK is pretty high praise.
Interior
The first thing that struck me about the interior was it actually looked like they tried something different. Or at least tried to try.
The dashboard has this swooping leather cap that encompasses the entire dash, infotainment system, and even extends to the doors. This is very cool, even if I didn't particularly care for it myself. Overall there is a consistent theme and symmetry through the interior that I really liked. The steering wheel is still a 4-spoke, but with a weird center that is far from conventional.

That said, the swooping dash also feels like a missed opportunity. They could have taken that as a chance to give the interior a cockpit feel, with the swoop centering all the controls to the driver, Saab style. Or really they could have done anything to make it look more than tacked on. Or removed it and given the car more visibility... which it needs. And that is the problem, it feels tacked on. If you removed it you (A) probably wouldn't notice and (B) would be left with a fairly conventionally styled interior. Also the A-pillar is just stabbed into it with no real styling what-so-ever.
So it shakes things up... a little. But hey, at least they're trying.
Speaking of visibility, it is surprisingly bad. The windshield is small and the hood high, giving poor front visibility. The rear window is small and the trunk tall, a concession to style I imagine, making the rear visibility mostly of sky, and less of the car tailgating you or that kid you just ran over. This particular "rental spec" car lacked a backup camera and is, coincidentally, the only car I've been in where one would be major asset.
Gauges are pretty standard except for the temperature gauge, which I'll speak to down in "Nitpicks".

One awesome feature? Even though this was the basic rental spec there were no poverty buttons, no blanking plates, and the only locked out features were due to the lack of OnStar. Good on Chevy for that.
Infotainment
Ahh yes, the ever-present plague of modern car interiors. This system uses the standard Chevy system (MyLink?) which I've already forgotten about. It is a little frustrating and obtuse at first, but not bad. It also supports Android Auto and Apple Car Play. I gave Android Auto a brief try. It seemed fine.
Unfortunately a lot of "features" of the car were behind an OnStar paywall, including Navigation. Do I care? Not really as Android Auto is available and in-car navigation always finds a way to eek money out of you. (Want upgraded maps? That'll be $300.)
Overall I didn't like the infotainment. It pretty responsive, but a lot of the functions made an extremely loud BEEP or boop and I never found a proper settings menu to disable that. It automatically connects to its own WiFi hot spot and proudly announces that every damn time you start the car. But not immediately! It takes some time to warm up the bits and then...
[BOOP] Wifi Network Connected Wi-Fi Network WiFi Hotspot 6069 Connected
Also I couldn't pair my phone or adjust some settings while driving, which I hate.
The speakers were OK. Good but not great.
Exterior
Honestly I'm struggling to find anything wrong wit-
[BOOP] Wifi Network Connected Wi-Fi Network WiFi Hotspot 6069 Connected
heh... sorry. I am struggling to find anything wrong with the outside. Also struggling to find anything right. It looks fine. Nothing exciting, but fine. One might even say tasteful, if forgettable.
If anything makes that point clearer, I literally forgot to take an external photo. Here is a stock photo:
I like it. It reminds me of a late-90s Accord, but in a good way.
That said, the color range this thing is available in is pretty depressing. There are five. Two blacks, two whites, and a dark blue. I almost fell asleep typing that.

That said... would this car look good in a bold color? I can't quite picture it. I think actually it would look pretty stately in brown, hunter green, and I'd bet a dark purple would sell well. Maybe dark red too.
Bright red? No. Super blue? Ugh. Ok yeah...
Does that mean they shouldn't make those colors though?
[Update: In my long history of being wrong, there are other colors available with higher trim models. Mostly more shades of grey and white, but there is also a red. Thanks Chariotoflove!]
Performance
Apparently whoever was doing the buying for enterprise decided to buy a little upgrade. This particular model was equipped with the-
[BOOP] Wifi Network Connected Wi-Fi Network WiFi Hotspot 6069 Connected
... naturally aspirated LFX V6 engine, which apparently makes around 300 HP and is mated to a fairly conventional 6-speed automatic.
Honestly I was shocked the first time I put the pedal down because... wait for it... something actually happened.
I wouldn't call the car fun to drive my any means, mind you, but it has a good amount of power, goes when you ask to to, and returns decent gas mileage. I averaged 29 MPG for my trip, which is pretty respectable. I get the impression it would have even kinda fun if three pedals was an option... which of course it wasn't.
The transmission was very conventional and reasonably responsive. The only complaint I had was occasionally when you put your foot down, the transmission gets too excited, changes down too many gears, and you get about 1000 RPM before it has to shift up again.

Wear and Tear
Given that this rental car had 40k miles, I feel qualified to say it has held up pretty well. Everything was still in good condition and nothing looked over-used, worn, or gross. There was an odd squeak in the roof, but a firm whack set it right. Honestly I was impressed.
Nitpicks
Ok.... now we come to the "good part." Where to sta-
[BOOP] Wifi Network Connected Wi-Fi Network WiFi Hotspot 6069 Connected
-well ok that. But also the swoopey dash had a weird break in it over the infotainment system. No idea why it was there. It really breaks up the styling in a bad way and wasn't particularly well attached. Maybe I wasn't the first person to try and open it. Maybe it was a storage compartment. Either way, blegh. [UPDATE: Apparently this is a storage compartment and has a place to connect your phone! Thanks Chariotoflove!]
I also hate the temperature gauge. Why? Because "normal" (at least on this car) was slightly off-center. Every reasonably modern car I've been in, operating temp is dead center. Even my Alfa has this! To make it just shy of center either means there is something wrong with this car, or GM hates you.
Speaking of gauges, the analog speedo doesn't match the digital one. Fron the driver's seat, when I was going 80 the analog speedometer read 81ish. GPS confirms I was going 80.
I mean.. 70... the speedo was really wrong. NEXT TOPIC!

Also the largest button on the key fob is the trunk release.... which is just annoying. The lock and unlock buttons are equally sized and have no tactile difference between them. I just... I can't fathom how someone made that and thought they'd done their job properly.
Lastly, there is no good place to put a cell phone. There is a little... thing in the middle which I think might be for that, but I don't care for it. Modern cars really have no excuse not to have places to put cell phones...

Conclusion
Wow... that was a lot of words about a meh car. My overall takeaway is this car is fine. Not good, not bad, just fine. It certainly isn't going to save the sedan or even really have anything to offer than a SUV/ CUV wouldn't be just as good at.
If you were looking for a 4-door sedan that is just fine, this would be worth cross-shopping.
6.5/10 - Fine just fine
...
...
...
[BOOP] Wifi Network Connected Wi-Fi Network WiFi Hotspot 6069 Connected