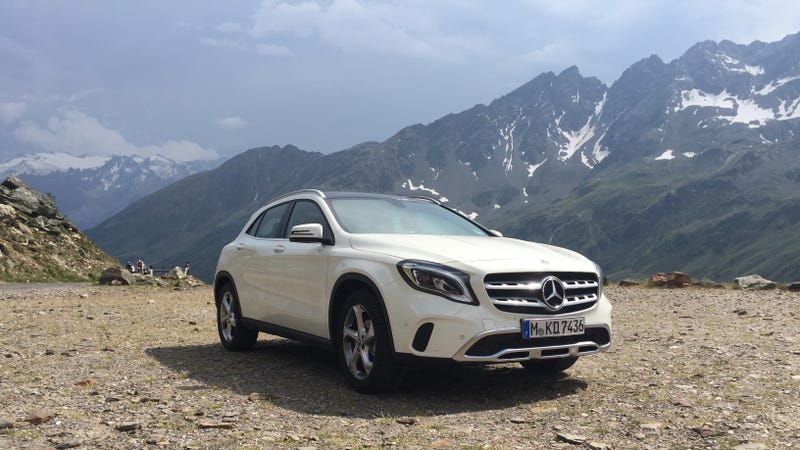 The build up to the Euro oppo meet was full of anticipation- It's a region I'd not been to before, and I was looking forward to meeting up with at least some of the people from the last meet.
Aside from this, there was as also the burning question of what rental car to get. After booking the cheapest car I could find- a Fiat 500 or similar- I decided to try and get something a bit better. After all, everyone else was going to be turning up with a variety of interesting sports cars, plus whatever luxobarge could be bought in time on mobile.de.
Our preliminary route was going to exceed the standard 250kms/day rental, so was restricted to cars with unlimited mileage which narrowed down the options a lot. No M4 or 124 Spider for me.
I'd picked a premium hatchback class with the hope of getting a Golf GTI, which was listed as an option. The answer to that was a big fat 'Nein!'- apparently they haven't had those for years. The remaining choice was limited as due to flight delays there were no cars available for non reserved customers. After some prodding of the computer and a furrowed brow from the rental agent the choice came down to a new Mercedes GLA, or an X3. Well, the new car smell is something I don't get very often, so picked the GLA. Also, the X3 is a larger car, which wasn't something that I wanted.
First thoughts upon finding it and trying to get out of the airport- why can't I see out? The window openings are so small and the beltline so high it's very difficult to tell where the ends of the car are. Apparently crossovers are great for older people who like a higher driving position, but on the GLA the roof is too low to get the seat high enough to get a good view. Getting in feels like a much smaller coupe (but without the advantage of long doors) as the actual door openings are quite small.
Talking of the interior- it's alright. The seats look quite sporty, being bucket style, but don't offer much lateral support and are quite uncomfortable after a days driving. This model had cloth and something that might have been leather on the edges. The dashboard has the terrible 'we went on aliexpress and ordered the cheapest tablet we could find and nailed it to the dash' nav screen that seems to be common in new cars now. It looks really bad, and the bezel is a massive piece of cheap gloss plastic. Higher end models get a screen that fills the whole panel- the only reason this isn't standard is to make people pay extra for it.
The plastics across the dash are all quite mediocre, with lots of small inserts of silver painted parts that look like they came from cheap electronics. The KIA cee'd I'd had previously had gloss black parts in similar places that looked and felt a lot better. As these parts were in quite a lot of tactile location- around the steering wheel for example, these probably won't last well.
This model had a glass roof, which was quite nice. it's not optimally positioned for a taller person as the edge of the glass and the headliner is almost over the middle of the seat.
The rear seats look usable, but we didn't try to fit anyone back there. The load space is a reasonable size and could fit a couple of decent suitcases in it. The boot lid is powered, which just seems more annoying than useful.
Moving on to the features, this was a basic GLA 180 model, but had just about enough to keep most people happy. The glaring omission was any kind of backup camera, which would have been very helpful as the visibility out isn't so good. Infotainment was OK, but not all that logical.
One difficulty I had was changing the language of the head unit, having to resort to Google- this looks to be a common problem people renting these have. Claimed to support Apple CarPlay, but appears to require a separate app, which required a login, so didn't bother. Connected by Bluetooth the audio streaming worked Well enough, but took a long time to connect after the car's been powered off. As we stopped quite a lot this got annoying. There's no buttons to skip tracks from the steering wheel, this can only be done from the buttons on the head unit which is an odd oversight. Sound quality was average.
Climate control worked well in the 35c heat but on this model it wasn't dual zone. It's got parking sensors front and read with LED displays that are supposed to indicate how close you are to things. These seemed to be very conservative, and would be in full on alarm when you're a couple of feet away from obstacles. They are also set off by aggressive flowers on the side of the road.
The lights were the latest LED units which were excellent.
Ergonomically it has a few issues, the electric windows switches aren't placed well in the door, so it's the rears that fall to hand first. The 'hand brake' basically doesn't exist, as it's automatically applied. There's a small handle right under the dash, but it's clearly not intended to be used and is just a switch. The transmission is a column selector annoyingly positioned for me where the indicator is on my car. Other people probably won't have this issue.
So after all that waffle, what's it like in the areas we actually care about- how does it drive?
I feel the French could sum it up best with a "bof" and a shrug. The best I can compare it to is a shrunk down European van (Renault Trafic etc), although the best of those might be a bit more composed. I can't say it ever felt confidence inspiring, always feeling heavy in to corners, and the feeling that you need to scrub off a lot of speed for even quite gentle bends. The quoted weight is 1.4 tons, so I imagine with a couple of people, luggage and fuel it's over 1600kgs, which is almost twice the weight of my DD! The steering feel is quite vague, firming up in the sport setting but comically light in the comfort or eco mode.
This model is the GLA 180, which is the base model. It's a 1.6 turbo 4, with 120hp and a 7 speed dual clutch gearbox. For me, this was the most infuriating part of the car. I know that the DSG type gearboxes are supposed to be quicker and better than a Human with a manual, but I can't see any reason why I'd pick one over a good old fashioned manual box. Maybe the other manufacturers versions are better. In normal comfort mode the box changes up and down reasonably well for relaxed driving, but it constantly trying to get up to 7th for changing.
I've previously posted about the fuel consumption and although I expect most people won't see the kind of numbers generated over this weekend, you aren't going to match the claimed 6l/100km either.
In sport mode, which is what I left it in for most of the time it will hold changing till about 4-5k rpm. In this range the engine note definitely makes itself known, and it's not pleasant. With the paddles on the wheel you can change semi manually, but it will revert back to auto mode after a few seconds, which is very annoying as it then usually in the wrong gear for the next corner. It's also quite common to get a manual shift in just before it decides to change up itself, so it then changes up twice.
Top Speed is 200km/hr. Which is achievable if you have enough space.
Redline is at 6.5k, and when you're really pushing it on a nighttime thundery Stelvio pass, theres just a passing evocation of a WRC car, but in general driving it doesn't sound good.
Braking will be fine for people who buy cars like this, and coped reasonably well with this trip- with the exception of coming down Stelvio. As the engine braking isn't all that noticeable more braking action than ideal was required, and they started fading off quite quickly. I wasn't pushing it too hard on the way down because of the whole falling of the edge in the the inky blackness thing, but they were smoking pretty bad by the traffic lights halfway down.
The tyres on this one were M+S winters, which contributed to the woolly handling, but were otherwise plenty grippy enough. The back end stayed planted, some front spinning action could be had but the traction control pretty quickly stopped that.
Now how well did this off roader off road? I'm sure that finding out was explicitly banned in the contract nobody reads, but some of the areas we went had gravel car parks and road works and there were no worries with those. The 4x4 version should satisfy those in snowy mountains, but they're probably happy with their Suzuki Jimny anyway.
The 180 isn't sold in the UK or the US, the base model being the 200 (250 Auto in the US) with a choice of Petrol or Diesel coupled to a manual gearbox. Specced up on the German Mercedes site (which appears to only work in IE like it's 2005 all over again) this model came in at approximately €35,000. Looking at the rental invoice I had, list price is €39,170, so there must have been a few options I missed.
This was mostly the base model, with some added styling, glass roof and the 7 Speed DCT- a Six speed manual is the base option.
That's quite steep- about the same list price as a Golf GTI with the Performance Pack. If you desperately want a Faux off roader, then it's worth looking elsewhere as there's a lot of choice in that area- That's Evoque or Disco Sport (4wd) kind of money.
From my anecdotal data of driving about back in the UK, it seems most of the potential customers have, in the last week I've seen two, compared to at least 10 current A class models (one AMG45).
That's less than the count for the Focus RS, which stands at three. Incidentally, that's about the same price as the cheapest GLA 4Matic, so you should probably just go and buy one of those instead. Or see if you can persuade the rental company to upgrade you to one.
Thanks to the unnamed large rental company for their services, and a very reasonable rate of €125 for four days and apologies to the person who buys this as a almost new car- you might need some new brake pads sooner than expected and I'd make sure to get the extended warranty.
Special thanks also goes to Kinja for eating half of this post just as I was finishing it.