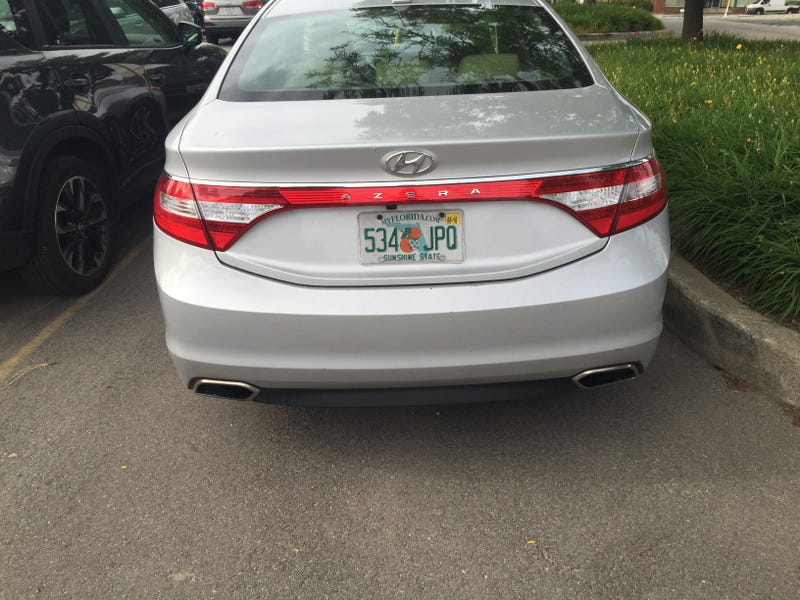 After my minivan failure, I chose a higher end rental at Budget and they gave me a new Azera. Never having driven a Hyundai, I was curious.
As you can see, the styling is not bad at all. It's a pretty good looking car. I,liked the wheels.
My son likes the mirrors that automatically folded back. I thought the gauge cluster was easy to read, but infotainment controls were not very intuitive
I thought this was a cool way to package seat controls, and way better than side of the seat to use.
Seats were comfortable, it handled well, and had plenty of trunk space. But there were a few things I didn't like. First and foremost, it was entirely uninspiring to drive and had no fun factor at all. The biggest issue was it had no get up and go,at all. It was fine on the street, but I could not accelerate on the highway in order to move into place to change lanes or exit, and forget about trying to pass at highway speeds. No oomph at all, and difficult to position yourself in freeway traffic.
But there was a philosophical problem with the car as well.
What the ever living fuck, Hyundai? I get warning idiots, but don't make me actively agree to your terms and conditions before I drive my own fucking car. Pumpkin does not approve.
As an attorney, I must apologize for the warning and disclaimer-driven world that my brethren have wrought. I can't stand this shit
Also, I don't think Hyundai has quite resolved quality control. Holy panel gap, Batman!
The hood was FULLY CLOSED in this shot. Not a good fit, Hyundai. Does not inspire confidence.
In sum, this was a very competent but entirely boring car. It made for a decent rental, but after 4 days I was ready to be done with the damn thing. I'd never buy it, and I'd be disappointed in my purchase if I did.
Rent one, play with it for a few days, but never buy. Here's an old Celica badge from my Sunchaser and a cool bike I saw yesterday as a reward for reading this. Thanks!