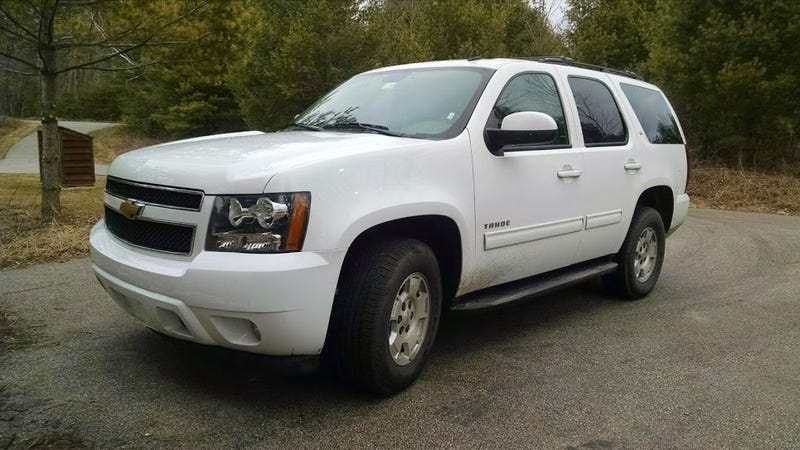 This weekend, my wife and I decided to take our first trip alone, since our 2-year old was born. We hit the road and left her and the cat with a big bowl of food, a big bowl of water, and instructions to poop in the box while we were gone. Just kidding, of course, she got to spend the weekend with my sister and brother-in-law.
We also decided to treat ourselves by renting something more comfortable for the trip. Since rental companies only let you reserve categories, instead of actual cars, I waited until the morning of the day I wanted to pick the car up. I phoned my local Enterprise office directly, and asked them, "What do you have in a big, comfy car?"
"We have a Charger, and the redesigned Impala."
"Perfect, put me down for the Charger."
So I made my reservation. I figured worst care scenario, I get a comfy wrong wheel drive Impala. When I arrived a few hours later, I was informed, "Well, we have a Tahoe and a Yukon."
I was pissed, and while I didn't yell or anything like that, I made my displeasure known. I wanted a car. They offered me the Corolla that the guy in front of me had just dropped off. They laughed when I said, "I'd rather slit my wrists than drive a Corolla 700 miles." I relented and took the Tahoe when they offered to give me the nearly full tank of gas in it. I figured at least we'd be comfortable.
It was a two wheel drive LT, with heated leather seats, and 35k miles on it. 35 thousand rental miles puts some serious wear on a vehicle, and the interior showed it. The carpet was stained, and it smelled like old milkshakes and kid sweat. Much Febreeze was dispensed.
Exterior: 7/10
I think the Tahoe looks pretty good. It is perhaps a bit boring looking. Not much else to say about that.
Interior: 6/10
You can tell this model was introduced in 2006, and the design and materials really show that age. However, it is seriously comfortable and roomy in there.
Power: 7/10
The version of the 5.3 in this Tahoe is a real honey of a motor. It doesn't suffer any of the low end laggy-ness that the 4.8 in my '06 Sierra and the 5.3 in my old '00 Sierra suffer from. The current 5.3 has a nice flat torque curve, with plenty of grunt available everywhere you need it. I'm sure the 6-speed trans, as compared to the old 4-speed helps that out quite a bit as well. The Tahoe is obviously not fast, but it's power is plentiful and pleasing.
Braking: 6/10
The brakes were totally fine for the job. I never really noticed them one way or another, bad or good.
Ride: 9/10
The Tahoe rides very smoothly, so much better than my '06 Sierra. I barely noticed the gnarly train tracks near my house. The crappy highways of Illinois and Wisconsin normally get my wife car-sick in my truck. No such problems in the Tahoe.
Handling: 7/10
Realize that I'm judging it on what it is, a big comfy highway cruiser. If the Tahoe was a sports car, I'd give the handling 1/10. The steering is almost as light as the 2000 Deville I inherited several years ago from my grandmother. The much shorter wheelbase makes low speed maneuvering so much easier than in my truck. I found a nice curvy stretch of B-road, and my butt never puckered once. It wasn't fast, but it was predictable.
Gearbox: 8/10
I never noticed the 6-speed auto doing it's job. I contend that this is exactly what you want from an automatic. As I mentioned earlier, it does a good job of keeping the engine in it's power band. It also has the shifter on the column, which is where an automatic's shifter damn well should be!
Toys: 8/10
Power (almost) everything, back up camera, blue tooth, steering wheel controls, good iPod integration, with a USB connector in the center console, and it all worked well. It was not missing anything that I give a crap about. GM cost company reared it's ugly head on the seat adjustment. The bottom was power adjusted, but the seat-back angle was manual. The seat was super-comfortable, though, and that's the most important aspect of a car seat in a highway cruiser.
Audio: 5/10
It had the Bose system, but it didn't sound very good. To be fair, I never bothered to adjust any of the levels, so I may be a little too harsh here.
Value: 4/10
According to Cars.com, a 2wd 2014 Tahoe LT went for $48 k. That's a lot of cheddar!
Total: 69/100
Conclusion:
I begrudgingly accepted the Tahoe for rental, and my wife was less than thrilled when I pulled in with it. I have to say though, that the Tahoe completely won us both over. The Tahoe is an excellent highway cruiser, it is supremely serene and comfortable. I had no trouble maneuvering it in either tight parking lots, or in the heavy traffic we were met with on our return home. The current model is rated to tow 8,300 pounds with the Max Trailering Package, so it's plenty capable of doing some real work, too. We were so happy with the experience of driving it, that we are considering getting a Tahoe when it comes time to replace my truck someday (not soon). Although, I about shat myself when I looked up the price of the current model. $48k gets you 2wd and cloth seats. Want leather and 4wd? That will be a whopping $56k! Needless to say, if we do decide to go that route, we're going to have to save up one hell of a down payment.
Engine: 5.3 liter naturally aspirated V8
Power: 320 HP/335 LB-FT
Transmission: Six speed column shifted automatic
0-60 Time: 8.3 seconds
Top Speed: It's a Tahoe, who cares?
Drivetrain: Rear wheel drive
Curb Weight: 5467 pounds
Seating: 7 people
MPG: 15 city/21 highway
MSRP: $47,640