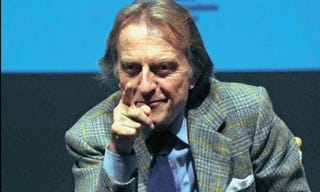 After Luca di Montezemolo was forced to quit Ferrari, he is finally able to pursue his life long passion for cooking. Luca opened up for an interview about what his plans are after his long stint at Ferrari.
"Well, as you know, I have spent many years devoted to Scuderia Ferrari, but I have also enjoyed the art of cooking ever since I was a young boy watching nonna preparing dinner in the kitchen. You can never forget those memories and I wish to pass down the rich heritage of the Montezemolo family."
He went on to discuss the restaurant in detail.
"We will be located here in Modena and we will be serving all of nonna's classic recipes. However, we will only be a small restaurant only serving 7 customers at a time. We already have a waiting list of clients who are willing to pay the premium for my balls to be in their mouths."
When asked about if he has any hard feelings toward Sergio Marchionne and the rest of the Fiat board, he said this:
"As of right now, yes, but that will not stop me from welcoming them into my kitchen. I look forward to their business, as I will prepare an extra special menu just for them. It will be a dinner to die for!"