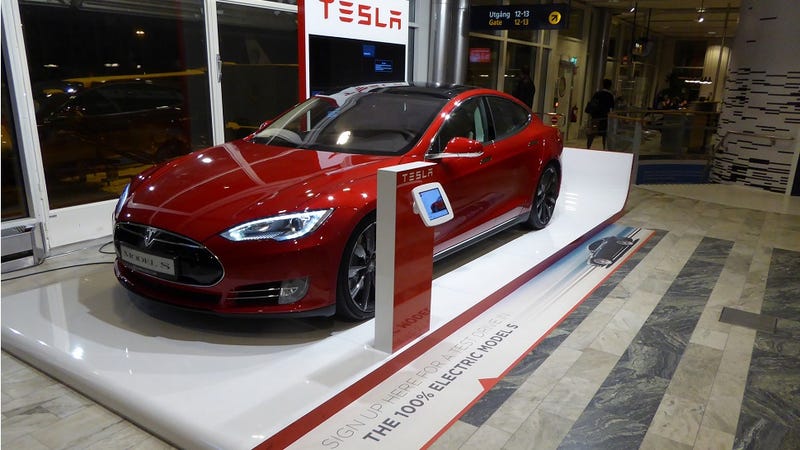 Tesla Motors officially expanded to the Chinese market last year in hopes of grabbing attention of the new wealth in China but sales have been sluggish and now there are reports that up to 2000 cars may be sitting unsold. In response to the lackluster sales start in China, Tesla is laying off a third of the workers there and some of them are coming out and sharing news about the rough start.
Tesla is laying off about 200 employees in China, mostly from their sales and marketing groups. According to DoNews, one of the departed executives was quoted as saying:
"Musk is coming on too strong, and he will not compromise on the Chinese market. He's too impatient. Managers must meet his expectations and standards or leave. Tesla's management division in the Chinese market has had insufficient clarity and unity. ... The Chinese management's right to speak is almost zero."
According to CarNewsChina.com, there are over 2000 unsold Tesla vehicles sitting at port in Tianjin and on a dealer lot in Shanghai. During a recent conference call Musk said that the sales staff in China was not executing a good strategy because it was telling customers that there may be difficulties in charging the cars when there is none. The laid off employees argue that there are difficulties in charging among other issues and customers have been know to rig up chargers as seen here. To make the issue worse, about 74% of China's population lives in urban apartment dwellings which do not allow chargers to be installed in their parking garages due to a fire hazard law.
Tesla is measuring its success by how well they increase demand for their vehicles and through 2014 they were averaging a little over 200 cars sold per month in China but according to Yahoo Finance, they only sold about 120 cars in January 2015. The drop in sales may partly be due to the announcement of the new P85D which cause a flurry of cancellation for the Model S.
The base price for a Model is in China is about $103000. According to Yibada news in China, Tesla insiders shared the pricing plan stating that in order to get a Model S built, the buyers were required to put down an initial deposit of about $2400 to start the order and then a second deposit of about $39000 when the car was ready to ship to China. Since the initial deposit was so small, many buyers cancelled their orders before placing the second deposit causing cars to be built and shipped with no buyers waiting on the other end. In order to combat this issue, Tesla increased the price of the first deposit to about $8000. This did not help the issue at hand but caused the sales to drop even further because buyers did not want to pay the higher initial deposit.
To further complicate issues, many gray market importers have popped and in some cities like Shenzen where they are selling more vehicles than the official import channel. They got in early and imported many of their vehicles before Tesla officially launched in China so they caught many of the early adopters who are not going to buy another similar vehicle. Another issue for Tesla is that their models have been excluded form many of the EV subsidies offered to Chinese car makers so prices are high and at that price level many of the Chinese elite prefer larger vehicles which end up being gas powered.
[Photo Credit: Flickr]
Bozi is the founder of Hoonable.com and creates articles on everything from engine swaps to late model car restorations. You can follow him on Twitter and Facebook or drop him a line at Hoonable!