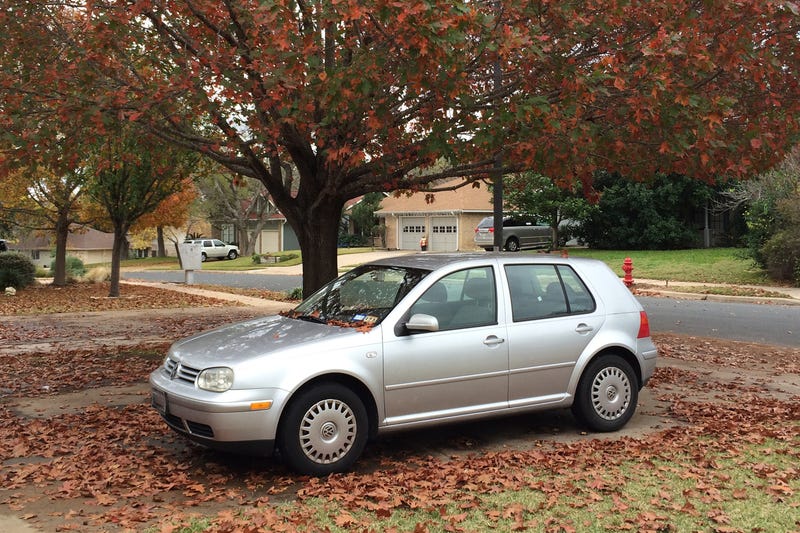 My family was awakened this morning at 5 am by a knock on the front door. As I left my bedroom, I saw the red/blue flashing lights in the street out front, and there was a Travis County deputy at my door. "We've had a little fender bender out here." Thank you, Deputy Understatement.

Apparently, a twenty-something-year-old was going an estimated 45 mph down my neighborhood side street at 4:30 this morning when he hit my '01 Golf parked out front. The kid's story was that he swerved to avoid a dog. Later, the deputy told me that the driver was intoxicated and was going to jail. The impact totaled his Focus, and pushed my Golf back about 1.5 car lengths, with the car in first gear and the parking brake set. The streets were a little slick, though. Looking at the Focus, I'd say my Golf gave as good as it got, and stood its ground bravely.
---
The Focus.
My Golf in the light of day. I saw the grille badge in the pile of debris the firefighter was sweeping up, so I grabbed it.
---
It's hard to know how bad the damage is to my Golf. It ran, and I was able to drive it forward a bit, since the Focus had pushed it back to where it was blocking our driveway (that's our Odyssey in the background). I know the radiator is pushed in and it's bleeding coolant. But the heater core was already leaking. It's a VW, after all. Still, the insurance company is bound to say it's totaled. It's 15 years old and has 224k miles on the clock. In fact, when I called USAA this morning, one of the questions they asked was, "Does your car have over 100,000 miles on it?" The cost of repairs will be far beyond what the car is worth. In dollars at least.
I was trying to explain to my boys this morning that the car has so much more value than mere money. It's paid for. It runs, and is relatively dependable. I love driving it. It's a manual. Grabbing second in that clutch (the original clutch, thank you very much) is a gas, even if the 2-point-slow engine isn't exactly burying you in the seat back. I was really hoping this car would be around when my oldest son starts driving. I want him to know how to drive a stick. For a long time, my wife drove this car, after we lost our Dodge Stratus. But since we got the '13 Civic just 10 days ago, this was Dad's car again. The one he could smoke cigars in. The one he had just cleaned and washed because now Mom had the shiny new Civic. That is where the value was in this car, no matter what the Kelley Blue Book or some insurance adjustor says.
I spoke briefly with the drunk driver's father as the wrecker pulled away with the carcass of his Focus. He told me about how his son has cancer and was working two jobs to help make ends meet. That's why he "fell asleep" at the wheel. That may be true, but cancer didn't necessarily cause his son to be drunk and speeding down a neighborhood street at 4:30 in the morning. But that wasn't the time to have that conversation. Despite the apparent loss of my car, his problems have only gotten exponentially worse, and his son is in a world of hurt. That was also part of the object lesson for my boys this morning. I offered the man my best wishes and he drove away.
Perhaps the damage is repairable. But it probably makes little sense to get it fixed. It needs new brakes, the heater core is leaking, it's got an oil leak (it's a VW, after all). The door latch is messed up, the interior has gone to pot, the rear seats don't fold down any more, the left door speaker only works when you kick it, the heat doesn't work. These are all good reasons to let the car go. But still, I will miss it. It's not how I intended to say goodbye.
Back in 2005.