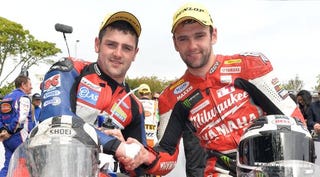 Just heard about the passing of William Dunlop. Condolences to the Dunlop family. Send lots of positive vibes towards his granny and mother. Those two have had to deal with a too much death. And brother, Michael, who's got to be feeling very lonely right now.

For those of you who don't know about the Dunlop family, they are Irish road racing legends. A group of shy, introverted men, you'd never guess that these guys could rip through old Irish streets at 200 mph. Joey Dunlop, William's uncle, is one of the greatest motorcycle racers of all time, and is the most revered name in Irish road racing history. Three hat tricks at the Isle of Man TT are just one of his many feats. Despite being mostly known for racing motorcycle, he was an great humanitarian, making trips to Romanian orphanages in his van to deliver food and clothing. He was killed while racing in Estonia in 2000. 50,000 mourners attended his funeral in order to pay their respects.
William's father, Robert Dunlop, was also a champion road racer. He suffered a catastrophic accident during the 1994 Isle of Man Formula One TT which left him with severe tendon damage and a shortened leg. Many thought he would never race again. With the help of surgery, rehab and specially modified bikes, Robert was able to return to racing in 1996. In 2008 Robert was killed when the engine of his bike seized on a qualifying run for the Northwest 200. Because of his previous injuries, his bike had been modified with the front brake next to the clutch. Robert mistakenly grabbed the brake when the engine locked up, sending him over the handlebars. Robert was traveling at approximately 150 mph when the engine seized. His two sons, William and Michael, were also qualifying that morning, with Michael being able to hold his dad's hand before he was taken off.
Determined to race the next day, both Michael and William defied race officials and waked their bikes out to the starting line. William's bike failed to start, but Michael rode like a man possessed and was able to win the race.
For those of who have never thrown your leg over one of these machines, the passion these guys have for racing is unfathomable. For the rest of us, even if we can't come close to doing what these guys have done, there's understanding. May your spirit live on in the hearts of minds of those who loved you, William. I'm sure you, your father and your uncle are ripping through the streets of Armoy together as we speak.
If you can stomach it, I highly recommend the film Road. It follows the story of the Dunlap family, and is a beautiful and haunting film.