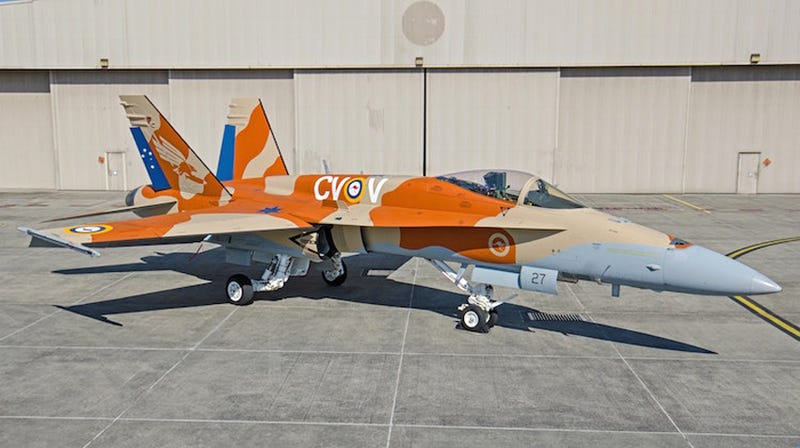 To celebrate the 100th anniversary of Royal Australian Air Force No. 3 Squadron, this F/A-18A Hornet was painted in a desert livery from WWII.

From the site Australian Aviation:
This exclusive image by photographer Jaryd Stock shows Hornet A21-27 wearing a hybrid scheme featuring the tan and brown camouflage and the 'CV-V' squadron code as worn by P-40 Kittyhawks flown by Squadron Leader Bobby Gibbes – the unit's longest serving commanding officer during WW2 – plus the blue painted rudders featuring the southern cross that was a feature of 3 Squadron's wartime P-51 Mustangs. The jet also features the contemporary 3 Squadron bomb-carrying eagle emblem on the tail, WW2-style roundels but featuring the red kangaroo (as introduced in 1956) rather than the red inner circle, and contemporary low vis roundels.
No. 3 Squadron was formed in 1916, one of three squadrons to fight in France during WWI. The unit was disbanded after the war, but reestablished in 1925 and fought in the Mediterranean Theater during WWII. Following WWII, the unit was again disbanded and reformed twice before being raised again in 1986, flying the F/A-18. As of 2016, No. 3 Squadron has been deployed in the fight agains ISIS.
Photo by Jaryd Stock via Australian Aviation