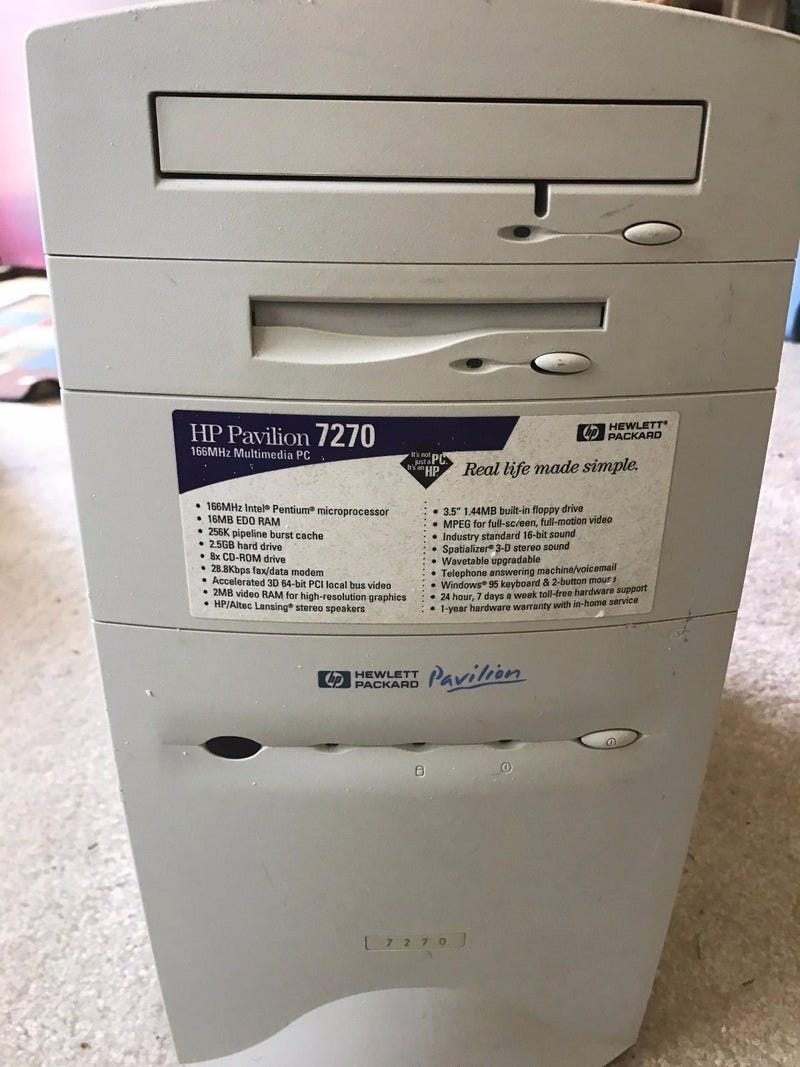 Got an HP Pavilion 7270 today. Specs are exactly as it says on there, looks completely original. Pentium 166MHz, 16MB EDO RAM, 2.5GB hard drive, 2MB onboard S3 graphics, some proprietary HP sound card with an ESS chip, Windows 95 on the original hard drive too.
Was pretty scratched up
Front and rear plates removed
yucky old dust

More dust and such. The fan cover had all sorts nearly black decade+ old dust on it. Fun fact, the case had a date imprinted on it, 7-18-1996. Exactly 21 years today.

All cleaned up! Magic eraser and sand paper. I used an air compressor to dust out the inside and wiped down every surface with a lightly damp paper towel then dried up.
Rear plate is much improved.
Inside is clean! And with upgrades! 2xPCI, 5xISA
The hard drive and some addon cards
Closeup of video card which I will go into in a bit
Another glance at the inside.
These are the cards it came with, a 28.8K ISA modem (bottom) and some proprietary sound card. Don't care for these.
The sound card uses a proprietary cable to connect to the motherboard directly instead of using an ISA slot. Weird.
The addon cards!
A Novell NE2000 ISA ethernet card clone.
Number Nine Imagine 128 Series II 4MB PCI video card
Other side of the Number Nine card... what's that? A Cirrus Logic CL-GD5424 chip for use in MS-DOS! Pretty cool.
Creative Sound Blaster 16 with OPL3 YMF-262 chip and a Creative WaveBlaster II wavetable daughtercard. Note the manual volume wheel!
It came with a Quantum Bigfoot 3600RPM 5.25" 2.5GB hard drive. Slow as shit
Size comparison against a 2.5" SATA laptop hard drive
SLOWWWWWWWWWWWWW Bigfoot
A 2GB 5400RPM IBM hard drive that's faster and quieter than the Bigfoot. Using this instead. Also bumped up the RAM from 16MB to 64MB. Much better.

Boot screen

BIOS screen

BIOS screen 2

MS-DOS 6.22 memory management
Specs using NSSI under MS-DOS
Defragging the drive after setting up everything
Defrag done. Quickly.
Windows for Workgroups 3.11!
There ya have it, kids. A wonderful retro computer. Ordered a CF to IDE adapter + 4GB Compact Flash card so I can eventually dual boot (with the aid of a boot manager) Windows 95 and MS-DOS 6.22