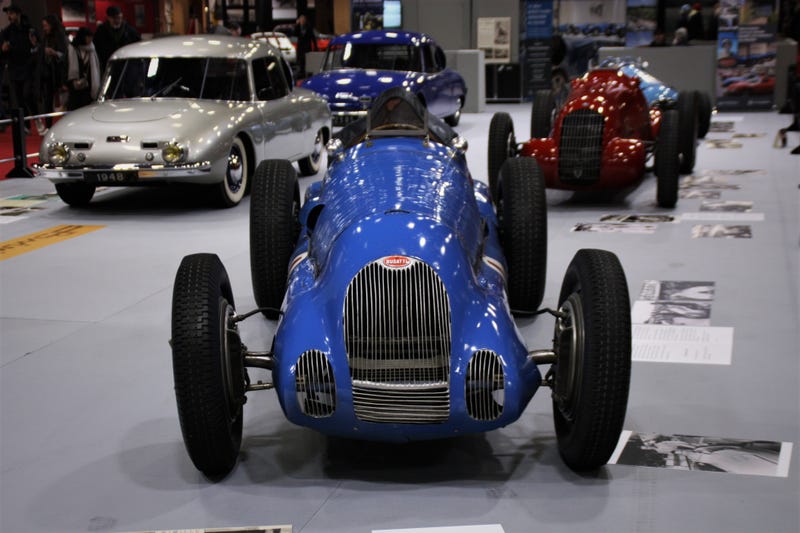 Retromobile is an auto show, except good: for one week, it puts together all sorts of amazing classic cars from a Hon-Hon Twingo to McLaren F1 cars. I wish I could be allowed to sleep in there.
I don't normally really like auto shows to be honest. But Retromobile sure is different, with its insane diversity of classic cars presented to a crazy crowd of oppo-minded people. It's one of the best events of the year!
This year was a damn good one, too. Some manufacturers were here to celebrate their history, as usual, and most of them brought some really cool metal. Citroën was celebrating anniversaries for both the 2CV and the quirky Méhari, Alpine a Le Mans win, and Porsche really came in hard as they always do. Other notable official presence include Aston Martin, Jaguar/Land Rover, Lamborghini, the Fiat group, Honda or Peugeot.
But for me, as both a classic car and motorsports fan, one manufacturer stood above all the other, even though they didn't come in any official way: McLaren. Team sponsor Richard Mille gathered a crazy assortment of legendary McLaren cars, from an M23 to a Le Mans-winning F1 GTR, and even what might be my favorite F1 car of all time, the MP4/4. Not gonna lie, I got a bit emotional there.
Some of the biggest spots are usually filled by auction houses (and now financial investments firms specialized in classic cars), and this year was no different. The most mind-blowing one was what looked like parking lot filled with Ferrari 250, including a Tour de France (my favorite!), a California, a couple of SWB and some Lussos. Oh, they also threw in a couple of Bugattis in there. You know, to not look like peasants.
But although this crazy displays are really impressive, I think what I like more about Retromobile is the dozens of little shops that have rented a small space in a dark corner somewhere. They have cars you'll expect the least, which makes it so much fun to just get lost in one of the massive halls and stumble upon some crazy cars.
Another cool thing that Retromobile does so well is small exhibitions around specific themes. This year they had three of them: one around the Montlhéry track (an very old oval in Paris' suburbs with a rich history), another one on Abarth, and the best one in my opinion was about Jean-Pierre Wimille, a sort of real-life action hero who drove for Bugatti pre-war, was a resistance fighter during WWII, and a manufacturer of weird little cars just after it.
And finally, at the end of the visit you'll find two sales displays that couldn't be more diametrically opposed: one is reserved for cars valued at a maximum of €25k, and the other is the massive Arcturial sale.
Arcturial is a long-time partner of Retromobile, and they always get their hands on some crazy cars for the big sale. This year they brought a Series 1 Ferrari 250 Spyder, valued at a cool $9 million. But also an FXX, a Porsche 962, a Peugeot 250 T16, and all kinds of crazy stuff.
If you didn't have that kind of cash to burn, then the sub-€25k was another great place to ruin your marriage. It's the first time they did this, and I think it's an excellent idea. I'm just glad I don't have the money!
Again this year, Retromobile felt like home. The only way it could be better is if the cars were moving, but hey we've still got Le Mans Classic later this year for that. The fact that it's still a great popular success here in France is also a very encouraging sign, and I was very happy to see so many smiles around!
I've uploaded a 100+ pics gallery of the event over at Drivetribe, so if you want to see more of this while allowing me to not get Kinja'd too hard, you can head over there: