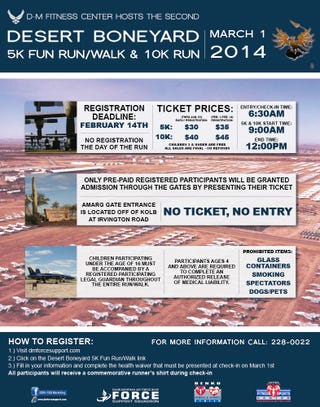 Last year's event was pretty awesome. And they are doing it again. Link to sign up is here: http://www.getsetusa.com/arizona/event-…
Event details:
Date: Saturday, March 1, 2014
Location: AMARG Boneyard Davis-Monthan Air Force Base Tucson, AZ

This is a very unique opportunity as they do not generally open the AMARG Boneyard to the public. And though the Pima Air and Space Museum has tram tours of AMARG, you are confined to being in a bus. Last years event was well organized, and you run/walk down the Aviation Hall of Fame as well as other areas (though you do have to stay on the defined path).