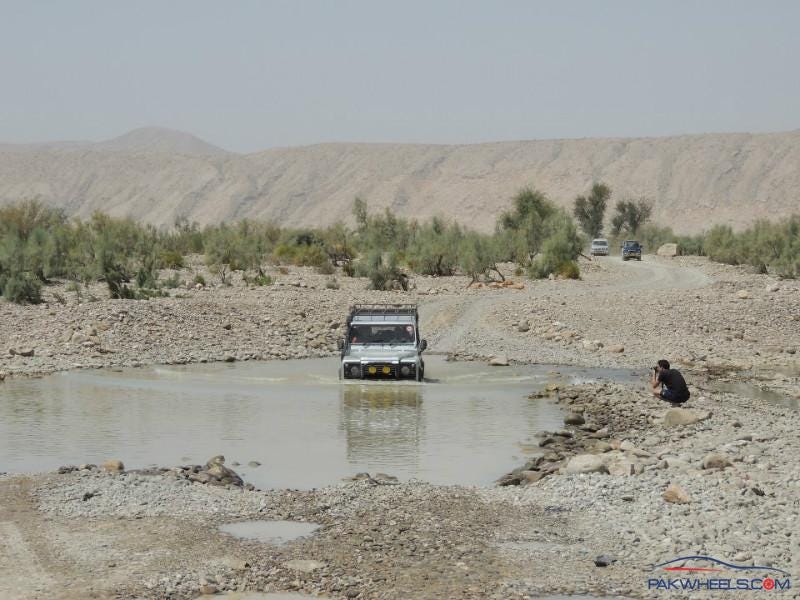 After reading the zero (Read: 50) mile Defender report, I recalled my experiences in a 2007 Defender a friend had brought after brief off-roading in his 120 Series Land Cruiser Prado seemed to expensive as rocks flew all around it, dust made a mess of its leather seats and wood panels. Something more down-to-earth and simple was required so a hunt was carried out to find a good and relatively priced Defender.
He isn't a good driver, but what is more terrifying is that fear of not being a good driver during off-roading get to your head. Once it gets there, you are fearful of your driving but since you can afford it, you let someone else drive. That's what happened here.
The alley of our rally point where the group joined up to form a convoy and head in the wild, was a bit shallow. No problem in our usual LC 70 which we had to ditch, but turning its power steering wasn't too comfortable.
It took us by surprise, we poked fun on the owner by saying he must've bought the Chinese one nevertheless, pulled together the strength and turned it around.
Almost everyone drives and prefers a manual in our group except one or two who are lazy but know how to drive one however, with this, the pedals aren't easy. You are doing some hard work to get acquainted with the heavy clutch. Maybe, on this particular car, there maybe used-car problems but nevertheless the body and everything was tip-top with very lower miles on it. Yes experiences may vary as what we were driving was a used 4x4 picked up from a foriegn NGO operating here, but they are known for keeping their vehicles in above good condition.
But all that's been said, is what you notice long after you notice the horrible seats. They are like sitting on a toilet seat with your jeans on. No, toilet seats can be far more comforting rather. We embraced the seat and us, fairly fit and atheletic body people, all had back pains, especially the people on the back seat. The back seat, well I now understand why LR put those single comfortable seats in the back making the vehicle a 2+2 in the newer models.
Anyways, since I consider this as a ride report rather a test drive. I'll get you to it. With sore backs, the ride in this vehicle was like you're constantly being fired upon. The noise the body off the road on speed of 70-80 km/h makes, simply cannot be otherwise explained. An older body-changed Pajero or our usual LC 70 Prado is much more comfortable and quieter.
Yes, when I got out and I noticed the problem. Both Pajero and LC had massive Bridgestone Desert Duelers while this has rather skinny tyres so that can be settled well later on by putting up fatter tires.
You can tell that I have a soft spot for this vehicle because despite what it did to us, the engine was fantastic. Both LC70 and Pajero ran dry but this still had more then a quarter while the TDV6 was a very good responsive engine.
How'd we know?! Well, to teach the owner how to do hill start by using just his feet, we stalled the vehicle mid way to our first campsite. He was afraid that he might drop down into massive pit, we insisted because none of us was quite frankly enjoying the driving it and wanted him to take control.
He did reluctantly came to seat and stall after stall he couldn't figure out how to use just your feet and the low gear to do the hill start without the computers from his new Prado aiding him. It was the best and we realized here after picking it up that LR has given it enough power, not too much to disturb the fuel economy and not too little. Might as call it perfect if there was anything as perfect.
Although the iconic Landy isn't the best or the most comfortable 4x4 off the road, the aim is simple now; get a used soft top, get the diesel engine, put the seats from newer Landys', bigger tires, fine tune the clutch and steering, and it would be perfect piece of equipment for all your off-road endeavors without making you look like a off-road show-off.
Bonus images:
Here's a MUTT pulling the Japanese Kei Mini-Pajero because it lacked the guts to climb itself.