Ridiculous Diesels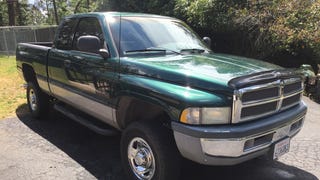 Ridiculous Diesels
The latest installment of the most RIDICULOUS diesel powered vehicles for sale online! Why are they so overpriced? What do you get for the money? Is it worth it? Come join the discussion!
The owner of this 1997 Ford F-350 4x4 7.3l Powerstoke wants you to know this is the 'last of the REAL TRUCKS'. I'd argue that they're over using the word REAL, similar to anyone who enjoys saying 'literally' before every statement. So come with me and we will take a look at a REAL truck and I'll LITERALLY tell you the REAL asking price.
I enjoy surfing Craigslist and bringing these REAL short articles to you. I found this truck to be a REAL good candidate for today's Ridiculous Diesels blurb.
What I can't grasp about this truck is how in the REAL world we could find the money to buy it... $22,900.
That's a REAL big number.
Let's look at what you get for that amount of money. You get some REAL big stickers on both sides that say '4x4 Ultimate Off Road'. These of course can't be REAL genuine Ford parts as even they aren't that goofy to find these attractive.
You do get a REAL clean interior that appears original and unmolested! The odometer on this one reads at ~115k miles. That's REAL low for anything made in 1997.
I also like how it has a REAL clean engine bay. I mean let's be honest; how many do you see this clean? I'll commend the owner for keeping and maintaining a REAL nice truck. The price though... that's something UNREAL.
There is a part of me deep down that wants them to get the entire $22,900 for this truck. I know many of you that have collected similar trucks could feel some good effects of the price hike. But it feels too soon and too much of a bad thing for our mutual hobby.
What say you? Would you spend REAL good money on this time warp of a '97 F350?
https://redding.craigslist.org/cto/d/1997-f350-crew-cab-4x4-diesel/6623053751.html