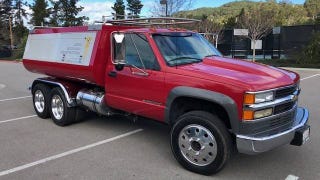 Mother of god... what is this? I didn't know such things existed in reality or even in the minds of mere men. If your contractor ever arrives in a vehicle like this, they have too much money and not enough sense. But what is it really? Come join me for another adventure into Ridiculous Diesels Gas-Holes!

I agree with this statement from the seller. However... when you see anyone in the construction business with a nice truck (typically lifted)- what goes through your mind?
Are they doing a lot of work and making SHIT-tons of money?

Are they new to construction and haven't had time to royally FUCK up their truck yet?

Do they really enjoy lifting heavy items into their truck that is lifted 8" higher than stock?

I honestly steer away from any contractor with too nice of a truck (read: newer diesels, modified, prettied up, and lifted). I prefer them to own an old 7.3L IDI Ford with a utility bed, dented to all hell, and with mismatched paint. It shows me they use their truck for the purpose as intended; to work hard!
A truck that is too nice means to me that they're too frivolous with their money. It leads me to believe that I'm more liable to be a victim of embezzlement of construction funds than have my kitchen renovation done on time.
Contractors live a life of feast and famine. They live like kings, on top of it all, passing up work as they please in the best economic times (like we've had since the economic recovery). But in the worst of times... they can't even find work. None at all. Most end up doing whatever they can for work during a recession.

Think about that - right now there are contractors passing up jobs every week they would beg, borrow, or steal in the worst of times!
I am no contractor but I've had enough work done to my house to know better - I had to get 7 quotes on roofs before finding a 'good deal' in our currently over inflated economy.
The quotes ranged from $25,000 to $40,000! I finally found a one-man-show that agreed to do it for $16,000. He completed the problem area of work and then said he couldn't find enough guys to complete the remainder of the tear off. I had to find ANOTHER contractor to finish the roof for MORE money (although not much more). Unfortunately, maybe a truck isn't a hard and fast rule?

So when I see things like this - I see a contractor with a massive amount of debt. I certainly don't see a stable financial sheet. Anyone with a truck like this is one bad bid away from bankruptcy.
I imagine that contractor that built this truck did one amazingly profitable job and said, "I want to build a truck to showcase how much money I milked off that last job! A truck that everyone will know is me from a mile away!"
Look at the fuel tanks. You'd think it was a diesel? WRONG! One is for off road diesel for equipment. The other holds gasoline... We're one broadside collision away from some serious fireworks!
I'll admit this truck is clean. The polished aluminum and paint look in near excellent condition. It is unique enough that I almost want it. A big almost. It lacks things like a diesel engine, I'm not a big box-headlight GM fan, and the paint... something about it screams old-man truck. I'm guessing its the deep red and silver two-tone.

It does have tandem axles! I really, really, really, really, want a 6x6 truck at sometime in my life. Ever since I saw the Thomas Crown Affair (with Pierce Brosnan) I've been obsessed with a small truck with more than two axles. I find them all cool. I would prefer the Jeep or a G-Wagon but I wouldn't rule out something more unusual.
This little dump truck is the truck that almost could be. It was an almost perfect execution to a custom construction vehicle but sadly I cannot approve.
Especially after seeing the price: $35,000
I am willing to bet it cost twice that to build this truck. This is too expensive and without a diesel engine it isn't the truck I'd want to ride the upcoming recession correction into bankruptcy.