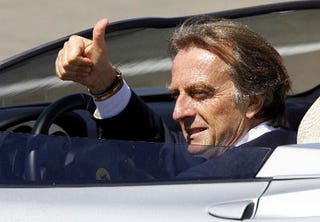 Yes, I'm a bit late to the farewell party, and probably already missed chairman Montezemolo departing for a final time the company he help create, but...
Renovation is clearly essential in the automotive and sport's industry, yet it could come at a price, especially given what's at stake in an era of change with both, Ferrari's automotive division and Scuderia Ferrari (F1 Team).
Given that Fiat who owns Ferrari which now owns ex-American company Chrysler, it is no surprise to be a bit unease about Sergio Marchione (Fiat-Chrysler CEO) wanting to integrate the lineup a la Lamborghini and Volkswagen AG. Sure his declarations have been well covered on the many news sources. In essence, this might be what robs Ferrari a bit of its independence, but most of all, its character. Design wise I'm not too worried, since we've seen Lamborghini keep its angular philosophy and premium looks. Mechanically though is another story. It is here were probably Ferrari will loose the most. Please take in mind that I do not own or drive a Ferrari. And sure we've heard that not all Ferrari's are great handlers, like the "under-steering pig" of the 360, to quote Juan Pablo Montoya. But you see even when it failed in the handling department, you could rest assured that the experience was a Ferrari experience. By this I mean to say that you could not compare it to driving another car. You could say that another car handled better or worse, but you wouldn't say that this Ferrari handles like a Chrysler 300c; as you can say that the new AWD Huracan under-steers like an AWD R8. That it's V-10 is a louder version of the Audi one, that it is less of a daily driver than the R8. And there you have it, instead of having a comparison's of old between the wild buckling Bull and the Prancing horse, these become a boring analogies of a once wild Bull now shackled by 4 rings.
The Ferrari trickle down theory is another thing that might change. Look at the engine and transmission above. Look at the details, and most of all, see the little prancing horses stamped around the components? As some readers commented it was nice to see that the Ferrari engines made it in trimmed down versions to Maserati. But if we take Marchionne's decalration literraly, it means that you will see common Fiat and Chrysler components instead of the uniqueness and artfully built engines, gear cases, etc. Therefore instead of components trickling down from Ferrari to other brands, these will trickle up from sub brands that essentially means this for your experience:
"As you pop open your hood, you notice the Beautiful Ferrari engine, the wording on top, the Prancing horse plastered on it as all over the car. Yet as you look at that wonderful work of art, you suddenly become fixated with some smaller detail. The radiator cap reads FIAT, the hoses are wrapped in yellow code that facilitate your mechanic when he has to order them do to melting from a Chrysler catalog."
After all who wants to pay over U$ 2 million for a car that doesn't at least re-brand every single component for that price (Bugatti Veyron I'm looking at you and your beetle DNA).
The Horse Whisperer & F1
Finally, what will probably be a taking point for weeks to come in the high speed circus, Formula 1 has lost a man that opposed Bernie to the brink of threatening to break away from the championship.
You see, Chairman Luca was the man who ended Ferrari's drought of F1 championships. He was the man that took the helm after el Comendatore passed away, and he never looked back. He not only managed to create a successful business as Enzo wanted to simply keep racing. He did so while building a competitive team. Sure we are not witnessing a new Schumacher-esq era with Alonso who has put out some amazing drives in an underdog of a car. Never the less, besides the 2009 fiasco, the Scuderia has been pretty competitive if not at the front.
But Championships aside, Luca was important for one reason. He was a man of strong opinions. And a man who was able to quarrel with Bernie if he did not agree. And that is why, he will be missed. Sure some of his ideas where crazy, like the 3 team cars. And although he was against the hybrid engines, he had a point in recognizing that a certain sonic appeal was going to be lost. Why not push for hybrid V-12s,10's or 8's? After all, F1 is about performance. Tyre degradation? Yes Luca was against it. We need the fastest drivers and the fastest good looking cars.
Look as antiquated as Luca could sometimes be, he understands marketing pretty well. After all Ferrari wouldn't be as profitable as it was if he didn't. And if you leave regulations aside, Montezemolo has been a man that has constantly battled Bernie on digital media. He knows it is important, and though he has recognized as other figures in the sport that its hard to measure its real monetary value; for a sport as global as F1 it can not lag behind in media/exposure technology and channels. Because you can't offer less for more money to sponsors because eventually they wont foot the bill if other sports offer more bang for their buck.
Hopefully Marchionne is able to get people who dedicate themselves not only to bringing back championships for my beloved Scuderia, but also invest time in driving the sport I love forward.