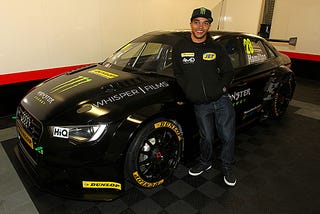 Jalopnik readers may remember American driver Robb Holland's campaign in the British Touring Car Championship last year in a blue NGTC-spec Audi S3. While not exactly littered with victories, it wasn't entirely pointless. This year he's racing here there and everywhere while he puts together a UK-based team for 2016 and plays on the Nordschleife, so he's sold his self-developed S3 to independent team AmD Tuning, who have found a driver for their new second car (alongside a Ford Focus) in the form of Nicolas Hamilton. Hamilton, who has previously been in the Renault Clio Cup support series, will take part in the second half of the season as a guest entry, as he too prepares for what he hopes will be a full season of BTCC in 2016.
But don't go thinking that he's become BTCC's first ever disabled driver by getting help from his plane-posing, LaFerrari-owning brother Lewis. Nicolas has gone solo, not waiting to be #blessed by #TeamLH but putting together his own budget and apparently getting sponsorship from Monster Energy, as the striking blue livery the S3 used to have is gone. He's also shooting for a points finish at some point this year, which given the grid of 32 cars and points available down to 15th could be a tough ask. Mind you, with three races per round, he's got fifteen chances by entering the last five of 2015's ten rounds, and Holland managed it once last year in the same car. Who knows? You'll just have to watch BTCC this year, which even Americans can do now!
Hamilton, who lives with Cerebral Palsy, says on his own website "Whilst I'm aiming to improve as a driver, I'm also hoping to inspire others to strive for their own personal goals, whatever their situation in life. Anyone can 'Exceed Expectations' in one way or another and I hope to prove that when I race alongside, not just able-bodied drivers, but the best Touring Car drivers in the UK."