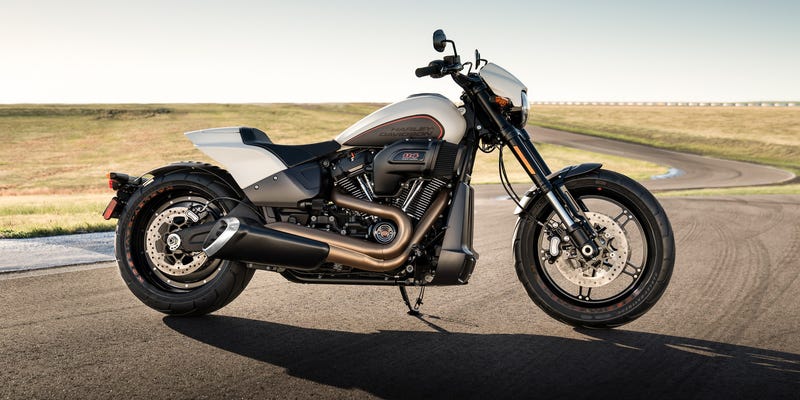 Went to a Harley Davidson demo day today. Neat bikes at first. Basically amounts to 3 engines and 4 main types of bike with a bunch of different dress up options. I couldn't care less about the full-dress mega-cruisers so I messed around with the softail and sportster.
The softail gets the new 114 cubic inch (1.8 liters) Milwaulkee-Eight engine. 119 ft-lb, 100hp. But even the "sporty" (and immensely uncomfortable) FXDR weighs 637lb so it's an incredibly tame 100hp bike. Oh and it STARTS at $21k. Twenty-one THOUSAND dollars. It did handle confidently though.
The sportsters get the 1200cc as their "big" engine and it is the most milquetoast powered pile of shit I've ever ridden. These things feel more rickety and crap than my 40 year old hacked to crap Honda. I'm legitimately angry about these bikes. It shakes like a marital aid at idle and doesn't even give the satisfaction of a good climax as it struggles to get out of its own way leaving a light. Also the first Sportster I went to ride had a sudden electrical issue. The second one, I was warned, had problems with the handlebars the previous day. Lovely. The mid-controls were great, put mid controls on the FXDR and you might have something.
Somewhat horrifyingly the Sportster is available with an even smaller engine which seems like a recipe for getting outrun by a damn Honda Grom.

Meh. If I wanted a big thumpy V-twin cruiser I'd take a used Honda VTX1800 10/10 times. Similar engine specs to the Brand New H-D Milwaulkee-Eight but almost two decades ago in a rock-solid metric cruiser with fuel injection, water cooling, a SIX SPEED TRANSMISSION (seriously H-D give me another gear to play with this isn't the seventies) and you can pick them up all day long in great shape for $4k.


I mean look at this. So much want. I wish I wasn't poor because that would be GLORIOUS for road trips.