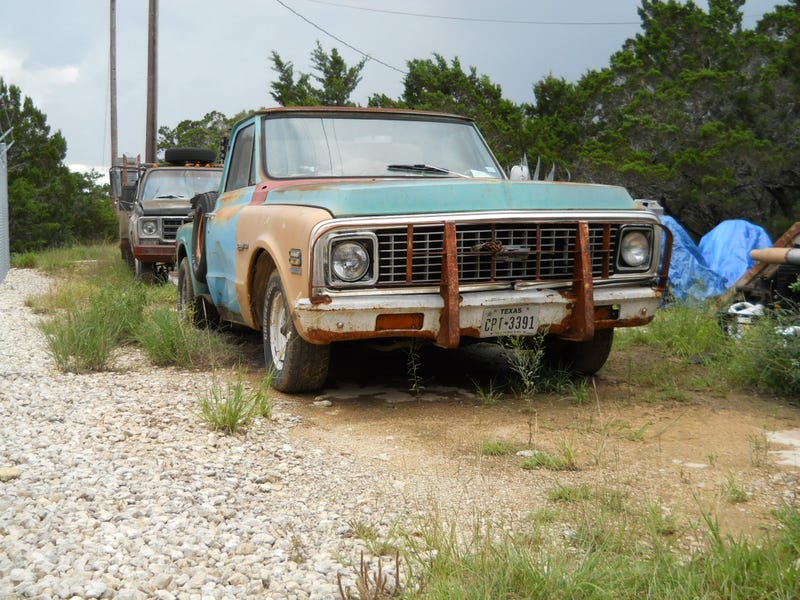 i know that you work in a body shop, and i recall you having said that you were a guy who was a hard hit specialist. i was hoping you might be able to give me some advice on where to shove in order to get things usably squared up.
the frame is toast. thats no problem. i am just going to set in on a shortbed 79 frame. THE problem, is that the cab is sprung. the door wont shut on the driver side, and i havent opened the passenger side, as i can tell that it is in a hard bind.
the gas tank in the back(50 gallon motor home fuel tank) was full, so when the truck suddenly stopped, the front wall of the bed flexed, and it punched the back of the cab inwards with a good bit of force..
should i shove against the back of the cab(that got hit) to get it squared up as much as possible first, or should i shove against the door frame first?(using measurements from a straight not sprung cab).
the floor also got distorted when the front wheel pushed a large bump up into the floor, and distorted the trans cover. also shoving the firewall back a slight bit.
should i leave the cab on the frame while i am working it back straight, or should i free it up from the frame before i begin work on it?
i KNOW that smart money says to just walk away and start with a fresh straight cab. but this truck has some sentimental value to me, and i would like to put as much of this one back functional again. i am not too worried about dents left over showing, just getting it straight enough that the doors work, and it will bolt up to another frame. i dont mind spending time on it. i plan to be using a harbour freight hydraulic cylinder, one of those ones from a cherry picker, and making nice large flat steel feet to give a solid flat shove without punching through....
thanks......