The SS Badger is a passenger and vehicle ferry in the United States that has been in Lake Michigan service from 1953 until the present. Currently, she shuttles between Ludington, Michigan, and Manitowoc, Wisconsin. She is the last coal-fired passenger vessel operating on the Great Lakes .The SS Badger is also unusual in that it is a registered historical site in two states. The Michigan Historical Commission and the Wisconsin Historical commission each named the Badger as a registered historical site in 1997. She was listed as of national significance on the National Register of Historic Places on December 11, 2009.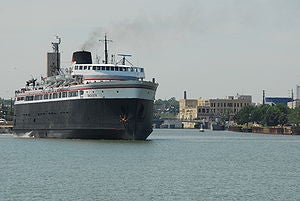 Details and History of SS Badger from Wikipedia
From the Detroit Free Press
WASHINGTON – The SS Badger – a car, cargo and passenger ferry that has been sailing Lake Michigan for decades – will continue to operate under an agreement reached between its operators and federal regulators today.
Lake Michigan Carferry, the Ludington business that owns and operates the 410-foot SS Badger, signed a consent decree with the U.S. Environmental Protection Agency and the Department of Justice to stop discharging coal ash into the lake within two years.
The company had earlier asked for a new permit to continue discharging coal ash into the lake. Its earlier permit expired at the end of last year. The SS Badger is the sole remaining coal-fired ship on the Great Lakes, sailing from Ludington to Manitowoc, Wis., from May to October each year.
Under the degree, the company said it will have to install an ash retention system by the beginning of its 2015 sailing season. The EPA said that, in the meantime, the company will be required to explain the technology that will be used and hit deadlines for installing the system.
Limits will also be placed on the amounts of coal ash that can be discharged into the lake this year and next or the company will face fines.
"The Badger is not merely a piece of living history," he said. "It is a very active and very vital part of Michigan's economy. … Too often local businesses are forced to close their doors due to Washington's heavy-handed bureaucracy."
But the Badger – which has been placed on the National Register of Historic Places and been nominated for the list of National Historic Landmarks – has been a source of controversy, too. In 2011, the Chicago Tribune wrote that while the Badger pleaded for time to keep operating under its existing permit, it continued to dump some four tons of material that included arsenic, lead, mercury and other toxic metals in Lake Michigan every day that it sailed. The total – 500 tons a year – was more than the total waste dumped annually by the 125 other largest ships operating on the lake.
"The resolution of this issue has taken far longer than we had hoped, but the end result has been worth the effort," said Bob Manglitz, president and CEO of Lake Michigan Carferry. "This agreement will save the jobs of our 200 plus employees as well as many other jobs in the states of Michigan and Wisconsin."