Doing my usual check at CWS Auctions for estate sale cars, I found this online auction listing for a rare (around 485-500 made) 1970 Hurst Edition Chrysler 300 in Monroe, NJ: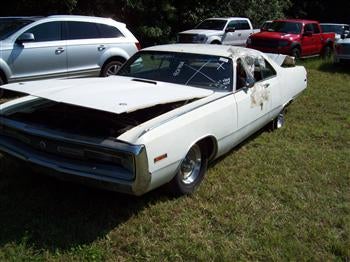 Unfortunately there's a snag: "Vehicle Must be Sold to a Licensed Scrap/Salvage Dealer. Vehicle Cannot be Re-Registered."
It definitely has issues (some idiot managed to break the fiberglass trunk lid), but the 440 and Hurst goodies seem to be intact. If anyone here is a member of a Mopar forum, try to get the word out and find a loophole to save it from the crusher...