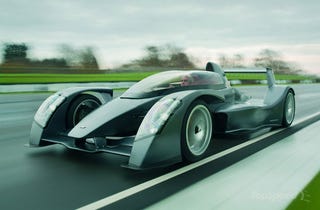 On November 8th, 2015, Angad Paul, CEO of Caparo, was found dead outside of his London apartment after falling eight stories. Unfortunately, he left behind a wife and two children. His death has been pronounced a suicide and many link it to Mr. Paul's recent financial troubles.
It's interesting to think about what Caparo could have been in light of the recent success of companies like BAC. If they hadn't suffered from mishaps early on (a T1 being tested by Jason Plato for the British TV show Fifth Gear caught fire at speed; a Caparo's throttle stuck open at the Goodwood Festival of Speed; a major suspension failure was reported during testing by a Dutch journalist), I truly do wonder how successful the company would have been. Just looking at the statistics and individuals involved, I would say quite successful.
Conceived as the ultimate Formula 1-inspired road car, it packed a 575-hp, 3.5-liter V8 that revved past 10,000 RPM in a carbon-fiber, two-seat chassis that weighed barely more than 1000 lbs. With F1-style aerodynamics that generated 1500 lbs of downforce at 150 mph, a 0-60 sprint under 2.5 seconds, and up to 3g of grip, the T1 promised to be the ultimate no-compromises street-legal supercar. Engineered by McLaren F1 veterans Ben Scott-Geddes and Graham Halstead, it had the bona-fides to be the best.
In fact, way back in November of 2007, the T1 actually set a Top Gear lap time of 1:10.6, over 3 seconds faster than the current leaderboard champion, the Pagani Huayra, but that time was disqualified as the car apparently wouldn't make it over a speed bump in the real world.

Anyway, I find it fascinating to contemplate how a few things working out in a different manner may have changed the company's fortune in a significant manner.
Above all else though, I hope you are resting in peace Mr. Paul and that your wife and children are living enjoyable lives while always keeping you in their hearts.
Everyone have a safe and joy-filled weekend and always be thankful for those close to you!