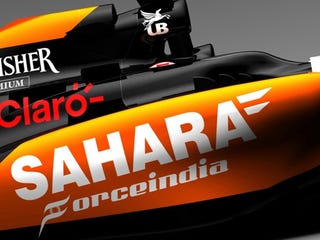 Reading through this, I bet the guy who wrote it really wanted to make a "once you go black, you never go back" joke, but higher management nixed it.
http://www.forceindiaf1.com/news/detail/ge…
Nothing embodies the identity of a car as much as its livery. Paint schemes are the skins and souls of Formula One cars with iconic designs filling some of the most memorable pages of the Formula One history books.

Instantly recognisable on the grid, the Sahara Force India liveries have become one of the most distinctive in the sport. Incorporating the colours of the Indian flag, they represent our team's identity, the passion of our growing fan base and the energy of a team that just loves to punch above its weight. From 2009 to 2013, the saffron, white and green livery has been part of the most important moments of our journey in Formula One.

As with everything in life, however, things change. The launch of a new livery for our VJM07 heralds a new era for the team, while at the same time maintaining the links to our proud history.

Stylish, aggressive and, most importantly, black – get used to our fierce new look. Call it badass, call it different – this livery brings a new lease of life to our designs without compromising our historical identity. The past meets the future: the colours of the Indian flag remain an integral part of the car, but the tiger has become a panther.

Just like a little black dress, a fashion essential all over the world, something simple is often most effective. Just like a little black dress, our livery is designed to make an impression.

The fruit of months of planning and design, our new VJM07 paint scheme has some practical benefits too, brought by the use of fewer coats of black paint. Mixing (racing) business with (aesthetic) pleasure has never been this easy.

As we enter our seventh season, this new fresh, dynamic look signals the team's renewed ambition – the next step in our shareholders' bold vision. Having achieved the objective to have an Indian team on the grid and having signed world-class drivers, our sights now turn towards the next target.

Sahara Force India's contemporary new look heralds the evolution into a global brand, supported by passionate fans the world over, ready to pounce on the higher echelons of the grid.

Maybe it's me, but I think it's hilarious. That being said, it does look pretty good. Also I'm excited to see Checo and Nico racing together.
So, how many times can YOU reference the color black in a press release?